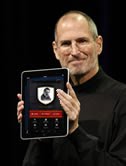 The Newest and Best Way to Access the Bible
Los Angeles, CA (PRWEB) March 05, 2013
The King James Bible has 66 Books, 1,189 Chapters, 31,100 Verses and 788,280 Words, all which can be read in one year by devoting just 20 minutes per day. The Audio Bible App uses the latest technology and runs on the iPhone and Android operating systems. The app is feature rich and enables the user to both read and listen to the Biblical text with the touch of a button.
Alexander Scourby's voice, which is featured on the Scourby Audio Bible App, is renowned as the best recorded voice in the World by the Chicago Tribune. It's verse indexed and each verse is synchronized to the Bible Text and thereby delivers the Bible to the user in a Bimodal Presentation. This simple technique is proven to enhance understanding, comprehension and memorization as well as increasing attention levels.
Using this great feature is guaranteed to both present the King James Bible in a totally new and inspiring way that permits users to get throught the entire Bible in just one year with just 20 minutes of listening per day.
Psychologist have stated that attention levels can only be maintained for a consecutive 20 minutes in retaining and understanding the information presented. Using Bimodal presentation, the recommended time for retaining attention, users will benefit from the most advanced and effective presentation of the Bible since the invention of the Gutenberg press in the 15th century.
Users can utilize scheduling and bookmarking tools to establish reading plans for each day. With the saved bookmarks and scheduled readings, users can plan ahead and prepare a plan for months ahead, making each experience efficient and effortless, with the focus on the words in the King James Bible.
Users can also take advantage of the Bible mp3 downloads as well and listen to the KJV Bible for 20 minutes per day on their mp3 players of personal computers. Bought of these newest ways to listen to the Bible will enhance both Bible study and personal devotions.
Litchfield Associates recommends a visit to scourby.com where users can get more information on the features of the Scourby Bible App such as instant look up of book, chapter, verses and words. Users can also order either the Audio Bible app or the Bible mp3 Download for mp3 players and personal computers on the site.
Scourby audio Bible Apps and mp3 Bible downloads of King James Bible, narrated by Alexander Scourby, are owned by Litchfield Associates and can be viewed on scourby.com