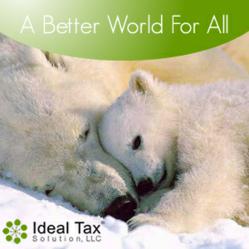 Anytime changes are made to the tax code, a certain amount of confusion is expected.
Costa Mesa, CA (PRWEB) March 05, 2013
Ideal Tax Solution, LLC maintains daily interaction with the IRS as part of their tax resolution process. By doing so, their tax help specialists are able to stay current on any actions or announcements by the IRS deemed important in determining a taxpayer's liability. Since the tax code is constantly changing, understanding and being knowledgeable of those changes can have a dramatic impact on an individual's or company's tax status.
A recent notification from the IRS informed Ideal Tax Solution of their ability to now process any remaining tax returns by the April 15th deadline. To date, the IRS has accepted 2012 tax returns in phases as it incorporated processing system modifications to reflect changes in current law. The adjustments were implemented as required by the American Taxpayer Relief Act (ATRA). Congress enacted the resolution in January.
This final upgrade to the 2012 tax code now enables taxpayers interested in claiming residential energy credits on Form 5695 to file their returns. It also encompasses various business tax credits and deductions now available. Anytime changes are made to the rules and regulations of the tax code, a certain amount of confusion is expected. That is precisely why Ideal Tax Solution encourages its tax clients to ask questions and be fully engaged in the preparation of their returns.
"Our tax liability professionals work with clients every day providing tax help and giving them peace of mind during a very difficult life experience," says Sam Price of Ideal tax Solution. "So many of them are surprised to learn about the simple steps they could have taken to avoid their current tax debt liability. After being informed about the IRS collection process it is common for them to ask us for assistance in preparing future returns."
Although a significant number of taxpayers have already filed their returns, taxpayers who have put off filing in lieu of the expected tax system revisions are now in a better position to optimize their tax responsibility and increase their refunds. Ideal Tax Solution provides a full range of tax preparation services for maximizing 2012 tax refunds and minimizing future tax debt problems.
For U.S. taxpayers interested in finding out more about Ideal Tax Solution and their full range of in-depth and personalized tax preparation services, or for any tax help related issue, visit them online at http://www.idealtaxsolution.com. You can also reach them by phone by dialing 888.393.5154. Good tax tips and additional information can be found on their Facebook page and by following them on Twitter.
About Ideal Tax Solution, LLC – Located in Costa Mesa, California, the company provides a full range of tax preparation and resolution services as well as reassurance to taxpayers nationwide. With more than 55 years of combined experience providing American taxpayers with federal and state income tax solutions, Ideal Tax Solution offers an experienced staff which includes Enrolled Agents, CPAs and Senior Tax Consultants who stand at the ready to help with any tax issues.