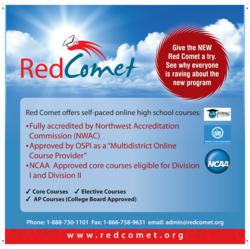 Prosser, Wa (PRWEB) March 05, 2013
Red Comet's online high school Social Studies core course American Government II that is aligned to Idaho State Standards provides an in-depth experience of how historical events have shaped the current American Government and an appreciation for contemporary issues.
The course provides students with the foundation to comprehend issues and ideas related to the mechanisms of a government. The students will breakdown complex organizational structures within the American government to understand their functions and responsibilities. They express their own insight and connect the situations to their own experiences. Study of this complex organization helps them understand more about their own rights, their fellow citizens' rights and the rights of the people around the world in general.
Red Comet offers a complete online program that is both rigorous and engaging. Red Comet is approved by the Office of Superintendent of Public Instruction (OSPI) in Washington State as a "Multi-District Online Course Provider" and as a "Multi-District Online School Program Provider". Red Comet's online program excels not only in the breadth of its offering but also has received the best ratings for student satisfaction in Washington State. Red Comet's online learning is engaging and presents even the most challenging topics in a way that students can understand. Students taking Red Comet's online high school classes are challenged using a variety of learning techniques which makes learning interesting while keeping them motivated to complete their courses within the allotted schedule.
Students throughout the country use Red Comet's high school classes that include all core subjects – Language Arts, Science, Mathematics and Social Studies, as well as numerous high school electives. A variety of students use Red Comet's online learning program – students in need of credit recovery, students attending public high schools who cannot attend all of their high school classes, students attending private schools who are looking for electives or Advanced Placement classes, home school high school students who need help in specific subject areas, athletes, students with part-time jobs etc.
Contact Information:
Dr. Jay Srinivasan
Managing Director,
Red Comet
1-888-730-1101