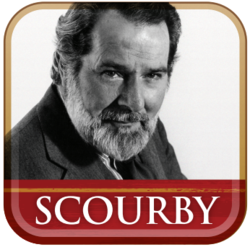 The Newest and Best Way to Access the Bible.
(PRWEB) March 06, 2013
Litchfield Associates, who owns the rights to the Alexander Scourby recordings of the King James Bible, has recently released one of the most engaging and technologically advanced bimodal audio Bible apps in the market today. The Bible App, which runs on Android and Apple operating systems, is the most comprehensive one of its kind.
Coupled with the immortalized voice of Alexander Scourby, the audio Bible app features a bimodal synchronized playback of voice and text. It may seem to be similar to on screen readers, but the voice recordings are synchronized in real time with the text being read highlighted in yellow. The bimodal presentation method is demostrated on scourby.com
The app also features the ability to create play lists of users favorite Bible passages for future play back and many users prefer to play them back at bed time. This proves to be a therapeutic use of listening to the Bible, which, according to studies, carries a significant retention level (Curtis and Learning 1960), get more information on scourby.com about the feature.
The King James Bible has been reborn as the all new Scourby Bible Audio Bible app and is finding its way back to Bible fans worldwide as the newest and best way to conduct Bible Study and access the oldest book. In this newest technological format, it is ideal for personal devotions and Bible Study, or for just the sheer pleasure of listening to the greatest voice ever recorded read the greatest Book ever written,
The Scourby Audio Bible app is considered by many to be both educational and the most effective way ever to access the Bible with its Bimodal platform of delivering both audio and text synchronized to the user. Add the incomparable voice of Alexander Scourby and the Bible app is a powerful new medium for assimilating the King James Bible.
Litchfield Associates presents the feature filled Audio Bible app on their web site at scourby.com as well as on Apple's iTunes Store, Amazon and Google Play. Litchfield Associates is the sole owner of Alexander Scourby's recordings of the King James Bible, and the producer of the Scourby Bible App and the Bible mp3 download for mp3 players and personal computers, which are breaking new ground in the Audio Bible market.
Ref: Curtis, David, and Automated Learning. 1960. Learn While You Sleep. Libra. http://www.attitudedeterminesaction.com/articles/Learn_While_You_Sleep.pdf.