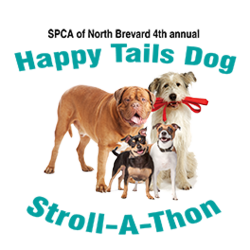 Protecting and providing a voice to the homeless pets of Brevard County.
Titusville, FL (PRWEB) March 05, 2013
On Saturday, April 6, 2013, the SPCA of North Brevard announces its 4th annual Happy Tails Dog Stroll-A-Thon at Sand Point Park in Titusville to help homeless pets in Brevard. Registration begins at 9am and the sponsored pet walk kicks off at 10am. New this year is the ability for participants to create their own personalized fundraising web pages for individual walkers and for teams, called "packs" at http://www.spcanorthbrevard.com. Share web pages with friends on social media and through email to solicit pledges and earn premiums for fundraising levels achieved.
There will be a Vendor Village with local businesses offering pet-related merchandise for sale to peruse and adoptable pets to fall in love with from the SPCA and from the North and South Animal Care Centers. What would a pet-friendly event be without the wildly popular, Doggie Fun Zone: the amazing, thrilling and entertaining fun and run multi-dimensional lure motivated obstacle course? No matter what their skill level, pooches will "beg" to let their inner agility star shine as they run the course.
Besides all the great family fun and vendors to visit, the SPCA Clinic Booth will offer canine nail trims for only $5 and free give-aways every fifteen minutes throughout the day. Some of the freebies to watch for included boxes of Frontline Tritak flea prevention, full-size pet grooming products, $25 gift cards good at the SPCA Clinic, Thrift Stores and Adoption Centers and more!
Continue the family fun across the park at Crackerjack's Tiki Bar at 2:30 for the Stroll-A-Thon After Party with live entertainment, food, raffles, and a 50/50 drawing. There is no cost for admission to both the sponsored pet walk and to the "after party".
Last year, the SPCA found homes for more than 1300 pets in Brevard and all proceeds from this event will allow the SPCA to provide food, shelter and veterinary care to even more homeless pets this year. For more event information, visit http://www.spcanorthbrevard.com or call 321-267-8221 ext. 246.
###
Company Information
The SPCA of North Brevard, Inc. is a private, non-profit organization with the mission of "protecting and providing a voice to the homeless animals of Brevard County." Founded in 1979 in Titusville, Florida, the SPCA is the largest private no-kill animal rescue group in Brevard, finding homes for more than 1,300 animals a year. It is the only adoption facility with free-roaming cat rooms in the County, allowing adopters to interact with cats in a more home-like setting. The SPCA of North Brevard Clinic also provides reduced-price vaccines to the public and has performed more than 50,000 low-cost spay/neuter surgeries since 1999.
For more information, visit http://www.spcanorthbrevard.com.