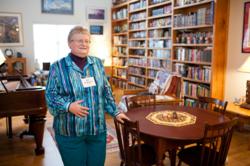 It's a casual relaxed lifestyle. We aren't trying to impress each other. We're just trying to enjoy the life we have together.
Newport News, Va. (PRWEB) March 05, 2013
When Dee Perkins realized she could no longer keep up her townhouse after tearing the meniscus in her left knee three years ago, she began to plan for an easier lifestyle.
"Do you really need to ask why I moved?" asked Perkins, now 72.
Where she would move to, she admitted, "well, that was another question. I'm a very independent person."
She wanted enough room to spread out, a feeling like home and the freedom to personalize her space.
"You can see why I moved here," Perkins said, swooping her hand across the living room of her spacious residence at Warwick Forest, which recently celebrated its 25th anniversary.
Warwick Forest sits on the Newport News / York County Line and is a full service community for active, older adults – also known as a continuing care retirement community.
On one side of her living room stands a wall of floor to ceiling bookshelves. Cuddled up on a nearby chair was Lady, one of Perkins' two cats. Her hall coat closet was transformed into a pantry. An outdoor porch enclosed with windows for Lady and Charlie, her other cat, to have their own space.
"And this is really a community," Perkins said, walking through the halls moments later, wishing good day to nearly every person she passed, from neighbors to maintenance men to guests. "You know the people across the hall, you know the people on your floor, and eventually, you get to know people from all over."
Perkins' story is not unique at Warwick Forest, and that's why she was selected to be among a handful of residents touring community visitors around the campus during the property's recent 25th anniversary celebrations, which included a community open house and chef's showcase, as well as a private party for residents, families and staff.
Warwick Forest, was established and opened in 1988 and has become one of the more trusted and experienced names in housing and related services for those seeking an active and secure lifestyle.
It includes independent living apartments, like Perkins' home, assisted living, nursing care and advanced care for residents living with dementia. The 40-acre campus features fountains, walking paths, gardens, wooded areas, gazebos and outdoor dining. Its head chef is culinary trained at the Culinary Institute of America in Hyde Park, NY. Activities include a saltwater pool, yoga, and a theater.
"We stopped having meetings in the movie theater," Perkins said on one tour. The chairs are so comfortable people fell asleep.
"What makes Warwick Forest different and special are the people who live here," said F. Michael Martin, Riverside's Senior Vice President for the Lifelong Health Division. "Everyone says this, but our residents are the down to earth friendly people that the Peninsula is known for."
Three of Warwick Forest's staff members, for example, have worked at Warwick Forest for its entire 25 years.
This "is a celebration of the beautiful memories of all who are here," said Bob Bryant, vice president and the chief operations officer for the Lifelong Health Division, during the anniversary celebrations.
"We've formed a true community," said Ginger Knight, Warwick Forest's Executive Director. Knight started with Riverside more than 17 years ago at Warwick Forest and has dedicated her career to caring for older adults. "It's a casual relaxed lifestyle. We aren't trying to impress each other. We're just trying to enjoy the life we have together."
ABOUT WARWICK FOREST:
Warwick Forest is one of three Riverside Health System Continuing Care Retirement Communities. Located in Newport News, Va., Warwick Forest offers multiple levels of care – from independent living to nursing – for residents 60 and older. On average, research shows that residents living in a continuing care retirement community that offers amenities like those at Warwick Forest enjoy an average of seven healthier years. Warwick Forest's amenities include, among other, indoor saltwater pool, fitness gym, exercise classroom, tavern and bistro and a theater.
Learn more about Warwick Forest at riversideonline.com/warwickforest
ABOUT RIVERSIDE HEALTH SYSTEM:
The original charter for Riverside dates back to December 15, 1915. The company began as one hospital, founded by the community and built on a site at Huntington Avenue and 50th Street in Newport News, Va. In 1962, the hospital relocated to the present site of Riverside Regional Medical Center in central Newport News. Since then, Riverside has evolved into a flagship regional medical center with affiliates throughout the region in every aspect of healthcare. Riverside is a 501c(3) tax exempt, non-profit organization dedicated to improving health and saving lives.
Learn more about Riverside Health System at riversideonline.com