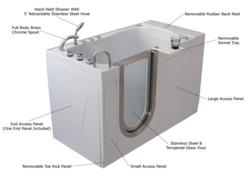 Purchasing walk bathtubs and ADA shower products has never been easier!
New York, NY (PRWEB) March 05, 2013
A leading walk bathtubs ecommerce shopping cart website that supplies aging in place products designed for bathroom safety, announces new and improved features to assist shoppers in easier navigation when purchasing walk in tubs and ADA shower stall products.
The improvement includes a new site map, in which visitors can easily access all pages and view in an outlined format of the website, making finding the different models of walk bathtubs and wheelchair access showers much easier. The site map will also include easy access to the frequently asked questions page and testimonials where shoppers can gather valuable information on several of the highest quality aging in place bathroom safety products such as ADA shower stalls and walk in tubs.
Senior citizens that are enjoying the fruits of retirement will appreciate the ease of being able to shop for step in tubs and wheelchair access showers from the convenience of home. The site offers detailed downloads as well, where visitors can load the dimensions and detailed features of the hydrotherapy walk in tubs and handicap showers. Customers can view numerous photos and easily load product schematics to help ensure the proper walk in tub is purchased.
The company announces this new site improvement in a continuing effort to provide senior citizens with a user friendly platform for purchasing walk bathtubs, wheelchair access shower stalls and bathroom safety products designed for people with mobility challenges. It is very popular for seniors to make modifications to the bathroom with these unique types of products in an effort to prevent a major fall or accident from occurring.
According to Aging Safely, several walk bathtubs and ADA shower systems come standard with additional safety features such as built in ADA compliant seats, internal safety grab bars, slip resistant flooring, anti scalding temperature controls and low step entry for easy access. Some visitors may have concerns of potential leaking of walk in tubs. Shoppers can have confidence as; Aging Safely only offers tubs that have a minimum lifetime warranty on the door seal to protect against leaking. Additionally several of their bathroom safety products are tested by third parties to help further ensure quality control.
This specialty shopping cart website has several resources for seniors beyond walk in tubs. Shoppers will also be able to purchase safety grab bars that can be easily installed in difficult to access areas such as entries, exits and stairways to help provide additional support and security. Falling in the bathroom can be a real concern for the elderly or anyone who suffers from a physical disability; so these specialty bathing products can add independence and enjoyment to those that need this type of product.
For customers that would like additional assistance in selecting a walk in tub or roll in shower, Aging Safely offers shoppers non obligatory consultations to help decipher the best bathroom safety product for their particular needs.
Contact Information:
Tye Wennstedt
info(at)walkbathtubs(dot)com
720-495-5497