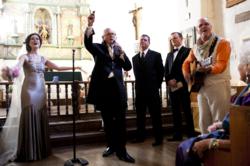 "It was my intention to savor every single moment," said Robbi, "and hire artists for every aspect of our celebration. Our 6 events showcased performance, culinary and visual arts, requiring everyone to awaken their creative passions in joy and love!"
Santa Fe, NM (PRWEB) March 21, 2013
On June 19, 2012, Los Angeles/Seattle/Santa Fe portrait artist Robbi Firestone brought together visual, culinary and performance arts for her non-traditional wedding of Love & Art.
The over-the-top fantasy weddings many little girls dream of seldom come to pass. But portrait artist Robbi Firestone and her fiancé, businessman David Lamb, saw no need to discount fantasy when intertwining their destinies. The result was an event that combined not only those destinies but their names as well: the "FireLamb" Wedding.
The reality of the fantasy began with location: Santa Fe, New Mexico, a 400-year old city steeped in history, romance, and most important to the artist and her fiancé, art. Robbi and David had visited Santa Fe and according to Robbi, they "fell in love with the place."
"Destination wedding are all about creating memorable experiences, as well as having an amazing location," says Robbi. "I wanted every venue, for every aspect of the wedding, to be so stunning that we didn't have to decorate it." And thanks to Santa Fe's revered beauty and cultural prominence, that wasn't hard. The couple secured a dreamy home base for the wedding party, guests and the reception: The Inn of the Five Graces in Santa Fe's historic center.
On Saturday, in lieu of a traditional bridal shower, acclaimed Santa Fe mezzo-soprano Deborah Domanski hosted a no-gifts "Love the Love" party. The bride and her guests shared stories, songs, writings, and images representing their ideas of divine love.
Sunday, bride and groom hosted a combined bachelor/bachelorette party at the historic landmark Pink Adobe restaurant. The highlight: a highly-entertaining burlesque performance that did double duty as a Father's Day present for the bride's father.
Monday, the ladies started with a restorative champagne brunch before enjoying local couturier Lily of the West's fashion show. Then, they went gallery hopping along Canyon Road, one of the country's top art districts. Monday's events were hosted by a quartet of Robbi's friends, Nancy Pellegrino (Pres. Citibank/PNW Region, current Chairwoman of the Woodland Park Zoo & Audience Favorite at 2012 Seattle Dances!), Debrianna Mansini (Producer/Actress/Activist), Melissa Evans (Award winning designer/CEO Envision Design in West Seattle), and Michelle Foreman Barnett (President Columbia West Properties & Woman of Influence).
Keeping to theme, the traditional rehearsal dinner was transformed into something memorable and unusual: The Burning Lamb Dinner. Inspired by Burning Man, the annual festival held in Black Rock Desert, Nevada that celebrates radical art, community, performance, and generosity, the festival themed costume party featured flamethrowers, fire dancers, and ribbon dancers. Guests enjoyed Mediterranean and Mexican food and prickly pear margaritas. A local country music band played, and Robbi and David performed the bawdy John Prine song, "In Spite of Ourselves."
The Tuesday wedding took place in the iconic adobe San Miguel Chapel, the oldest church in the United States. Robbi was escorted down the aisle by her father, retired Marine Master Sergeant Robert Oppermann. During the ceremony, led by a friend, the Reverend Charles Hall (Genesis Global Spiritual Center, Burien WA), the bride and groom read poetry and letters aloud as well as sang to one another. David's mother, Isabelle (former Grays Harbor Port Commissioner), stood up and gave her blessings to the sacred union.
120 guests from all over the world packed the chapel. Robbi was radiant in a full-length, form-skimming, champagne toned Badgley Mischka Couture dress with intricate pewter beadwork. The groom wore a 19th century tuxedo. In lieu of bouquets, the bridesmaids wore wrist corsages composed of century-old lace, designed by Tacoma artist Nanette Colby and Marissa's Flowers of Santa Fe.
Music played a significant role in the ceremony; Metropolitan Opera's Deborah Domanski sang, and the bride and groom serenaded their ceremony guests. David surprised Robbi with a special guest appearance by Jamie Lula, who performed "Perfect," one of the couple's favorite songs.
The reception was held in the lush courtyard of the Inn of the Five Graces. Guests enjoyed a range of locally-inspired hors d'oeuvres, hot and cold tapas, and sweets from Marja Custom Catering. Memorable dishes included: Spanish ham croquettes and yellow tomato gazpacho, Castilian-roasted lamb and grilled mini chorizos, and grilled asparagus, peas, and tomatoes stuffed with tuna, and olives and capers. Desserts included handmade chocolates and cherry empanaditas.
Seattle's performers the couple imported to New Mexico included electric violinist virtuoso Geoffrey Castle, Motopony's lead singer Daniel Blue, the Emerald City Throwdown band, and vocalist Verginia Martin. At one point, all spontaneously jammed with guest four-time Grammy award winner KebMo (and the bride) as guests danced under the stars.
Guests received New Mexico folk artist Steve White's Pez characters, custom designed for each, and custom party hats made by Seattle's own Tuzzie Muzzie, seen at Teatro Zinzanni!
Passionate philanthropists, the couple requested gifts be given to the guests' charities of choice.
Robbi and David honeymooned at the luxury resort Amangiri, in southern Utah.
(Their "first"/unofficial wedding was performed by a Maasai Shaman in Tanzania at the Ngorongoro Crater Lodge in Tanzania, with 250 Maasai villagers bearing torches and shooing away Cape Buffalo.)
Contact:
Name: Cecile Haut
Email: Cecile(at)RobbiFirestone(dot)com
Phone: (631) 708-6745