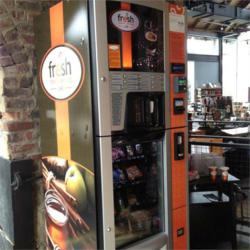 (PRWEB) March 05, 2013
Hampshire College students in Amherst Massachusetts have the option of finding a fresh-brewed cup of coffee at 3 a.m., if required. The College has installed a new Fresh Healthy Vending Café machine in the Johnson Library. It provides a fresh-brewed, satisfying cup of coffee made from fair-trade beans that are ground fresh for each individual cup. It is the only place on campus to access a fresh cup of coffee when studying late.
"This unique healthy vending machine dispenses organic coffee drinks together with signature healthy snack options," states David Greeman, a franchisee of the Fresh Healthy Vending Company that supplies the Café machine. "These machines are not your parents' old-school coffee machines or ones that provide a bitter gas-station brew. This is comparable to a cup from a gourmet, specialty coffee shop." David is a former restaurant chef and culinary instructor at the Lincoln Culinary Institute in Hartford, Connecticut.
The healthy vending machine also supplies a variety of other hot and cold beverages, including hot chocolate, chai tea and lattes, with French vanilla a choice favorite. Each beverage costs less than two dollars, making the gourmet coffee affordable for the students at this liberal arts college.
Hampshire College is implementing a healthy food transition; they have a sustainability initiative director and have set objectives and milestones. The goal: to change the enterprise of producing, preparing, consuming, and managing food on campus, using food as a means to teach students, communicate values, experiment with new models of food systems that solve problems, influence our peers, and serve our community.
"Nutritious and wholesome snacks are available from the machine too," David continues, "The culture at this school is forward-thinking with alternative ideas, social consciousness, and environmental awareness. The food choices and healthy offerings in the machine are a natural fit for the student body."
The Healthy Vending Café machine is accessible during library hours and after the bookstore and other campus food and beverage options have closed. The library is open from 8:30 a.m. to 4 a.m. at crunch times during the school year and most nights it remains open until midnight.
Marge Dunehew, Hampshire College's Purchasing Manager said, "It's an attractive vending machine, operates trouble-free and does what it's supposed to do. From a back-office perspective, the Café machine is brilliant because I get no complaints that it's not working or that people have lost money. All the feedback and comments have been positive," she said, "One staff member reports a serious latte habit every afternoon at 3 p.m."
The Fresh Healthy Vending Café machine in Amherst Massachusetts at Hampshire College is one of the thousands of vending locations throughout the country offering quality, healthy beverage and snack food choices. Keeping minds and bodies in better shape are part of the directives for Fresh Healthy Vending, the first and largest franchisor of healthy vending machines. Expert at creating profitable healthy vending businesses for franchisees, Fresh Healthy Vending's quest is to help Americans become healthier by providing more nutritious and wholesome snacks and drinks purchased through healthy vending machines.
For more information about Fresh Healthy Vending franchises, visit http://www.freshvending.com. To inquire about receiving a free Fresh Healthy Vending machine where you work, live or play, visit http://www.freshandhealthy.org or call toll free 888-902-7558.