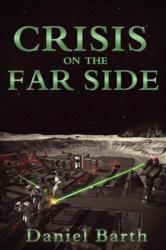 Livingston, NJ (PRWEB) March 06, 2013
Daniel Barth is the author of The Maurice Series, a science fiction adventure series geared towards 5th-8th graders. He recently published the third kindle book of the series, Crisis on the Far Side.
Crisis on the Far Side elegantly continues Maurice's adventures in The Maurice Series. Readers who read the first two books will continue their journeys following Maurice, the main character, as he unveils his insights on where he lives and who he lives with. As one reviewer put it, "As Maurice learns, you learn too." Also, Daniel eloquently parallels the era of colonial expansion in the American West during the late 1800's to where Maurice lives, which gives the book a second layer and a deeper meaning.
The series incorporates real space science, which makes it educational. The first book, Maurice on the Moon, is part of the curriculum in many schools throughout the country. Ironically, Daniel never set out to write educational books. However, his clear and concise writing mixed with his expertise in space science quite naturally makes The Maurice Series a good resource for literature and space education.
Cathy Seabourne teaches a ninth grade reading intervention class at South East High School in South Gate, CA. She uses Maurice on the Moon to improve her students' reading comprehension skills and capacities. Her students come into class asking, "Are we going to read Maurice on the Moon today?"
The series has sparked a desire to read and learn within her students. She says that when they started to read the book, they began to realize what they didn't know. And that, Cathy explains, is "the start of wisdom." Read more about this story at http://www.funderstanding.com.
Funderstanding, the publishing partner, will be holding a free promotion for Crisis on the Far Side on Amazon from March 5-7, 2013.
With the recent release of Crisis on the Far Side, Daniel continues to educate the youth with The Maurice Series. Daniel Barth is thrilled to have contributed a fun and engaging resource for science education and reading improvement and has exciting plans for the future. He is currently writing the next book for the series.
For more information about author Daniel Barth, visit his website at http://www.MauriceOntheMoon.com.
About Funderstanding LLC:
Funderstanding is an ebook publishing partner company that works with authors who want to break into the ebook market. The company provides complete epublishing services as well as an expertise in ebook marketing and author branding.
Find more detailed information at:
http://www.funderstanding.com/publishing