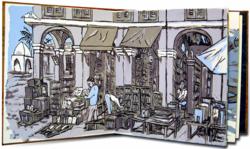 The connection between the booksellers and readers on al-Mutanabbi Street, and the booksellers and readers here, is very simple and direct. We all share the belief that books are the holders of memories, dreams, and ideas. Beau Beausoleil
San Francisco, California (PRWEB) March 05, 2013
The San Francisco Center for the Book, a home for letterpress printing and hand bookbinding, will host an exhibition of artist books, a commemorative poetry reading and film screening Tuesday to honor the poets, writers and booksellers who lost their lives in the car-bombing of al-Mutanabbi Street. Anniversary readings will also be held in Santa Monica, Boston, Washington, DC, London and other cities to commemorate the tragic events of March 5, 2007.
On that day, a suicide attack destroyed al-Mutanabbi Street, the home of Baghdad's intellectual and cultural community for centuries. Although the loss of 130 lives was in itself devastating, the symbolism of the street was not lost – despite years of dictatorship and repression, al-Mutanabbi Street was the place where Iraqi writers and booksellers could breathe in an atmosphere of relative freedom and human exchange. (World Literature Today)
San Francisco bookseller Beau Beausoleil took the bombing personally and speaheaded a global group of artists, printers and writers to action, to keep the memory of the attack on al-Mutanabbi Street alive. Beausoleil is the owner of the Great Overland Book Company. "As a bookseller, that's where my bookstore would be," Beausoleil says. "And as a poet, that would be my cultural community."
Responding to this tragedy, and Beausoleil's call to action, artists from all over the world have come to share a sense of solidarity as well as ownership in a project that refuses to let that day, and its significance, ever be forgotten.
The San Francisco Center for the Book is proud to exhibit fifty-four artist books created to commemorate al-Mutanabbi Street. The anniversary reading will be a three-hour event featuring a screening of "A Candle for the Shabandar Cafe" and readings from San Francisco writers and poets including: Esther Kamkar, Persis Karim, David Sullivan, Sas Colby, Kazim Ali, Beau Beausoleil, Julie Bruck, and Rijin Sahakian.
For more information about the exhibit, go to
http://sfcb.org/exhibitions/current-exhibition/al-mutanabbi-street-starts-her e
For more information and to RSVP for the Anniversary Reading and Conversation, go to
http://sfcb.org/civicrm/event/info?reset=1&id=983
The San Francisco Center for the Book fosters the joys of books and bookmaking, the history, artistry, and continuing presence of books in our culture and enduring importance as a medium of self-expression. We provide both a home for Bay Area book artists and a place where the wider community can discover book arts. Everyone is welcome here, experienced practitioners and newcomers alike. Over 300 workshops annually offer learning at all levels: from introductory to focused advanced courses spanning traditional bookbinding, cutting-edge printing techniques and experimental book forms. Exhibitions are designed to inform and inspire visitors. Free public programs include opening receptions for the exhibition program, poetry readings, book release parties for our publications, gallery talks, Open Houses and other community events like the annual Earth Day Extravaganza and Roadworks Street Fair.