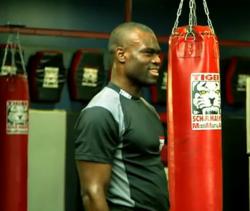 Elmwood Park, NJ (PRWEB) March 06, 2013
As Uriah Hall continues gaining notoriety on, "The Ultimate Fighter," Tiger Schulmann's Mixed Martial Arts schools suspend classes to watch the show and support their fellow student.
"The Ultimate Fighter" airs every Tuesday on the FX network at 9:00 p.m. On those nights which feature Uriah Hall, most of the 47 Tiger Schulmann's Mixed Martial Arts (MMA) schools suspend classes and encourage their students to turn out in support of Uriah.
Schools have been pooling together to gather in large restaurants, where friendly proprieters turn the tuner to FX. They have been providing Tiger Schulmann's MMA students with an hour of viewing, to watch their fellow student as he fights his way to the top. The winner of the show will secure a 6-fight contract with the UFC and other bonuses, which will likely include endorsements by several name brands. Uriah Hall is already featured on a NOS Energy Drink commercial.
Uriah came to Tiger Schulmann's as a bullied child, lacking confidence. Now, he is becoming one of the most recognized names in mixed martial arts due to the press he is achieving on the show.
In 1997, at the age of 16, Uriah Hall immigrated to Rego Park, in Queens County, New York from Jamaica. Immediately, students at school began bullying him as the new foreign kid. The bullying became so severe that he lost a tremendous amount of confidence and warranted an urgent course of action. His mother sought to rebuild his confidence by enrolling Uriah in Tiger Schulmann's MMA, Rego Park.
Uriah excelled at MMA, quickly working his way up the ranks and caught the attention of Tiger Schulmann, who began instructing Uriah in the most advanced levels of MMA. Eventually, he became a Tiger Schulmann's instructor and began participating in amateur, then professional competitions. Due to his exceptional abilities as an MMA training professional, he was accepted as one of 32 applicants to fight for a spot on, "The Ultimate Fighter."
On Tuesday, February 5, Uriah Hall defeated his opponent, Adam Cella in a knockout, described by UFC President, Dana White as, "One of the nastiest knockouts I have ever seen in the fight business." The fight and subsequent knockout were even featured as the number-one news article on Yahoo's February 7 news feed.
About Tiger Schulmann's MMA
Tiger Schulmann's MMA and Kickboxing is an established leader in the Mixed Martial Arts training for adults and a leading advocate of children's self discipline, self defense and anti bullying programs. In business since 1984, Tiger Schulmann's has over 47 locations across, New York, New Jersey, Pennsylvania Connecticut and Florida.