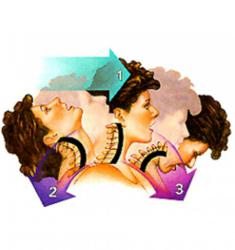 No matter how minor an accident may have been, the underlying damage to the soft tissue and spine can lead to chronic pain down the road. It is important to get checked out if you been in an motor vehicle accident.
san francisco, CA (PRWEB) March 06, 2013
In the United States, more than 3 million people experience whiplash each year. Whiplash is characterized by a sudden distortion of the neck resulting in tearing or stretching of the soft tissues that hold the spine together. This form of injury is commonly caused from the force of an accident, which 'whips' the head violently from one direction to another. This form of 'shear' force can also apply in the lumbar (lower back) region, resulting in herniation or rupture of the soft cushioning discs that surround each of the vertebrae in the spine. While whiplash is commonly associated with automobile accidents, it can also be developed from other injuries such as accidental falls, sporting activities or assault.
With the increasing number of cars on the road, motor vehicle accidents are becoming more common- resulting in over 6 million car accidents in each United States each year. As a result, there has been an increase of reports from passengers experiencing injuries such as whiplash.
"The biggest problem I see with post motor vehicle accidents is letting the injury lead to de-conditioning and loss of strength, which will further lead into disability and pain. Seeing a chiropractor early after an accident, allows the injured person to get back to their normal routine faster and prevents the body from ever getting into a downward spiral leading to chronic pain." says Al Stoll, Personal Injury Attorney.
Symptoms of whiplash include headache, neck pain, dizziness, problems with balance, sleep disturbances and even TMJ pain. While these symptoms may take hours, days or weeks to appear, they can develop into lifelong health problems if they are overlooked as minor issues. Any form of trauma to the spine can disrupt the normal position and motion of the vertebrae, which will affect nearby muscles, ligaments and discs. This form of misalignment is known as vertical subluxation, which can produce an adverse effect on the nervous system. Damage to the nervous system can result in organ damage and an impaired immune response system. While medical doctors are trained to treat life threatening emergencies, chiropractors are trained to recognize spinal damage and administer chiropractic treatment. Often times, patients who are discharged from the emergency room after an accident will continue to report neck pain, which may continue to get worse over time.
While there are different methodologies to help alleviate whiplash, SF Custom Chiropractic, located in the Financial District of San Francisco, provides a unique combination of chiropractic adjustments and Active Release Technique to relieve neck pain. The use of ART focuses on relieving tension and scar tissue in the neck muscles that was developed from the accident. While pain medications may temporarily provide minimal pain relief, chiropractic treatment has been a highly sought after form of care for whiplash injuries. In addition to chiropractic care, SF Custom Chiropractic also provides deep tissue massage to help relieve muscle tension commonly experienced from whiplash induced motor vehicle accidents. For the month of March, SF custom Chiropractic will be providing complimentary consultations and treatment for those who have recently experienced whiplash after an automobile, motorcycle or sports injury.
"No matter how minor an accident may have been, the underlying damage to the soft tissue and spine can lead to chronic pain down the road. It is important to get checked out if you been in an motor vehicle accident", says Dr. Adam Jacobs, head treating doctor of SF Custom Chiropractic.
Based in the Financial District of San Francisco, SF Custom Chiropractic opened in January 2011. Head treating doctor, Dr. Adam Jacobs received his doctorate from Palmer West College of Chiropractic (known for being the leader of sports chiropractic). Dr. Anthony Gustin received both his doctorate and masters from University of Western States in Portland Oregon. Both Dr. Jacobs and Dr. Gustin are Certified Chiropractic Sports Practitioners. In addition to their doctorate degrees, Dr. Jacobs has his fully body A.R.T.® Masters degree and long nerve entrapment certification and Dr. Gustin has received a Masters of Science in Exercise and Sports Science. SF Custom Chiropractic takes a holistic full body approach to fix underlying structural problems associated with back pain and many other musculoskeletal disorders. For more information, visit http://www.sfcustomchiro.com or follow us on Twitter @SFCustomChiro.