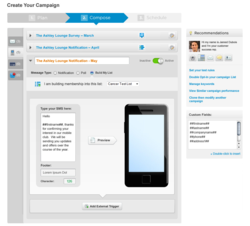 Our vision is simple; we are building the most intelligent messaging platform on the planet.
Los Angeles, CA (PRWEB) March 05, 2013
mobileStorm, Inc. (http://www.mobilestorm.com), one of the companies leading the charge in America for mHealth patient engagement, announced today that it has taken a significant leap forward with the latest version of its secure healthcare messaging platform, mobileStorm for Healthcare. mobileStorm for Healthcare clients and partners, can engage in relevant messaging and meaningful dialogs with their members. mobileStorm for Healthcare provides the ability to create and execute complex, condition-based, wellness programs, across multiple messaging channels.
"In other words, imagine a scenario where you have a beautiful and easy-to-use web-based (cloud) platform that enables you to quickly query your consumer data to find all Type 2 diabetic female patients over the age of 35, who have been a member for more than 3 years in the city of San Francisco", states Joseph Shavit, VP of Products at mobileStorm. He continues "Then using our dead simple three-step campaign management tool, you can create a medication adherence campaign that allows you to message this population via multiple channels such as email, SMS, Push Notifications and our secure mobile messaging channel AppMail™, and create a series of rules around these messages that are based upon engagement, behavior, preference, date, and time. And get this, it's conversational, so not only can we trigger a message if someone for instance hasn't opened a message, or has clicked on a link with a message, but we can ask questions and provide responses based upon their answers. So to promote adherence, we could ask someone if they took their medicine. If they haven't we could ask them why not? Did they forget or were they worried about the side effects? If it is the latter, we could send a follow up message and personalize that message with their doctor's information, requesting that they call for more information. Or if they don't respond to the message, deliver a Push Notification two days later reminding them to respond. The case studies are endless".
The updated platform represents a huge step forward and is a major upgrade to mobileStorm's messaging and communication code within the platform.
"I'm really excited," said Jared Reitzin, Founder & CEO of mobileStorm. "We are at fifty percent smart phone penetration and headed towards eighty percent in the next few years. There is no better place to reach someone and influence behavior than on a device that never leaves our pocket. Our vision is simple; we are building the most intelligent messaging platform on the planet. Even though we have a ways to go before we can make that claim, its features like our multi-channel rules and dialogue engine, that is getting us closer to our vision. I think my team is doing some incredible, game changing stuff, and the best part is, it's not all complex algorithms and code. As a client, or partner as we like to call them, you can see a picture of your account manager in the interface and with a click of a button chat with them, call, or email them. Its little things like this that I don't believe the healthcare industry is used-to, yet it flows perfectly in line with our core value to provide Legendary Customer Service. We don't just hand someone a technology platform and say "have a nice day", we are with them every step of the way, helping them think about the incredible use cases they can create. We're super busy helping payers, providers, pharmacies, and pharma companies, come up with all of the ways a communication platform like this can help them find new customers, reduce costs and provide an incredible user experience.".
About mobileStorm
Based in Los Angeles, California, with more than a decade of email, mobile and social communication, mobileStorm has delivered billions of messages on behalf of thousands of premier customers such as Humana, NASCAR, American Idol, Kaiser Permanente, and Ashley Furniture HomeStore. As a Communication Service Provider (CSP), mobileStorm's mission is to help companies communicate with as much relevancy as possible, allowing everyone to win, from the ISP or carrier who delivers a message to the consumer who desperately wants to engage with the content that matters to them. mobileStorm backs up their web-based technology with expert advice and legendary customer service that drives ROI for its customers.