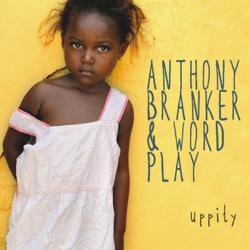 What's really important to me is trying to make a connection with the listener on an emotional level.
Richmond, CA (PRWEB) March 05, 2013
On the provocatively titled "Uppity," Anthony Branker's second CD with his all-star sextet Word Play, the prolific composer and bandleader harnesses his vibrant jazz originals and his band's dynamic interplay to deliver a bracing social and spiritual message. "Uppity" will be released by Origin Records March 19.
His "Ballad for Trayvon Martin," one of the album's emotional centerpieces, honors not only the 17-year-old who was slain in 2012 because of "what he looked like," but victims of racial violence who came before.
"While the music on 'Uppity' addresses, out of necessity, such themes as intolerance, hate, and prejudice," writes Branker in his booklet notes, "it also serves to remind us of the power and resiliency of the human spirit when we keep the notions of 'hope' and 'healing' at the center of our lives."
Branker, the founder and director of the Program in Jazz Studies and associate director of the Program in Musical Performance, both at Princeton University, has in recent years been composing for and recording with two different although similar handpicked ensembles. With Ascent, he's recorded four albums, most recently "Together" (Origin, 2012). Prior to "Uppity," he made the 2011 Origin CD "Dialogic" with Word Play.
Tenor saxophonist Ralph Bowen and bassist Kenny Davis, whom Branker first heard when they were with OTB (Out of the Blue) in the late 1980s, are members of both groups. Completing the Word Play lineup are trumpeter and flugelhornist Eli Asher (of the Respect Sextet); trombonist and keyboardist Andy Hunter, who also performs with Germany's WDR Big Band; "monster pianist" Jim Ridl; and Mingus big band drummer Donald Edwards, who "plays with such incredible commitment to groove."
Branker gets a remarkably fat sound from the six Word Play musicians through the way he voices the three horns and his use of layered repetition. "I'm always trying to give the impression that it is a bigger ensemble than the normal-sounding sextet," he says. "I like to give each voice a sense of independence, but there is still a real connection between each line."
Born in Elizabeth, New Jersey in 1958 of then-recent immigrants from Trinidad, Anthony Branker grew up listening to records by calypso greats such as the Mighty Sparrow and Lord Kitchener as well as pop and R&B on the radio and "a little jazz." Hearing a concert by trumpeter Maynard Ferguson's big band at age 14 turned his head around. "They were swinging back then," he recalls. "Their power and precision and spirit and hearing the soloists made me really want to pursue music."
Branker's own credits as a trumpet player include five years alongside Ted Curson, Eddie Henderson, and Valery Ponomarev in the trumpet section of the Spirit of Life Ensemble every Monday night at Sweet Basil in New York City's Greenwich Village. In 1999 he put the horn down after suffering a seizure and two brain aneurysms due to an Arteriovenous Malformation. After undergoing brain surgery in 2000, he now takes medication to control his condition.
"The three things I value more than anything else as a writer have to do with rhythm, a sense of lyricism, and trying to make a connection with the listener on some level," Branker states. "Sometimes we get into playing and writing all this complex stuff and things that we feel are hip and are gonna impress other musicians, but I don't necessarily think that that's the direction we should be thinking, especially if we want to have an audience and expand the audience. What's really important to me is trying to make a connection with the listener on an emotional level."
And on "Uppity," the professor's philosophy is put brilliantly into practice.