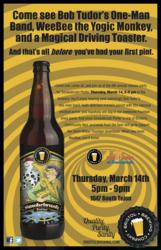 It's a great beer. More importantly, its proceeds are going towards something that is near and dear to a lot of people's hearts, including ours.
Colorado Springs, Colo. (PRWEB) March 05, 2013
Bristol Brewing Co. - a microbrewery that crafts fresh, distinctive beers for the people of Colorado - will celebrate the release of its Smokebrush Porter on March 14 from 5-9pm. One of three seasonal Community Ales, 100 percent of the profits from the beer will be donated to the Smokebrush Foundation, which will pass along the funds to the Uncle Wilber Fountain in downtown Colorado Springs.
Fashioned in the robust porter style, the mahogany-hued Smokebrush Porter is a richly roasted, gratifying brew. A clever combination of malts smoked on peat and beechwood add an ever-so-slightly smoky character to the finish. This distinctive beer will be available for a limited time on draught and in 22 oz. bottles at the brewery and at restaurants and liquor stores along the Front Range.
"We're happy to support the Smokebrush Foundation, and love that we're helping to keep Uncle Wilber going for another year," said Mike Bristol, owner of Bristol Brewing Co. "It's a great beer. More importantly, its proceeds are going towards something that is near and dear to a lot of people's hearts, including ours."
The Thursday evening festivities will be filled with hors d'oeuvres by Blue Sage Catering, Uncle Wilber trivia, the World's Only Magical Driving Toaster, WeeBee the Yogic Monkey, and entertainment by Bob Tudor's One Man Band. In addition, there will be a ceremonious unveiling of the 2013 label design by Nicholas Baranek, along with a look at label artwork from previous years. For five consecutive years, Bristol, Smokebrush and the Colorado Springs Independent sponsored an annual label design contest for this beer. The group took on a different approach that kicked-off this year: Bristol and Smokebrush will select a local artist every year to pay tribute to Uncle Wilber through creative interpretations of the fountain.
"The Uncle Wilber Fountain represents community, as does Bristol Brewing and their Community Ales," added Don Goede, Smokebrush executive director. "On June 8, we'll celebrate the third annual Rocky Mountain PBS Fun Fest and open the fountain for the first time this year. It's symbolic of summer, and thanks in part to this beer, we are able to keep that tradition alive."
Located in downtown Colorado Springs, in Acacia Park, the whimsical Uncle Wilber Fountain has entertained thousands of kids with its 52 vertical pop jets, more than 200 streams of water, dozens of colorful fiber-optic lights, danceable scores, and a water-themed riddle accessible beneath the waterfall cascading from Wilber's sky-blue dome. Smokebrush created the fountain for the city in 2001, and continues to support its upkeep.
For more information on Smokebrush, go to http://www.smokebrush.org. To learn about Bristol Brewing Company and its brews, go to http://www.bristolbrewing.com.
###
About Bristol Brewing Co.
In 1994, Bristol Brewing Company settled comfortably in the lap of Pikes Peak and began hand-brewing flavorful, one-of-a-kind ales for the people of Colorado. From its award-winning Laughing Lab Scottish Ale to its seasonal beers and Community Ales, Bristol Brewing Company's world class beers are available on draught and in bottles in select locations throughout the state. For more information, please visit http://www.bristolbrewing.com.
About Smokebrush Foundation for the Arts
Established in 1992, the Smokebrush Foundation for the Arts provides creative leadership in the Pikes Peak region. It is most well known for the innovative and whimsical Uncle Wilber Fountain, its giant, drivable toaster, and its gallery and yoga space in the Trestle Building.
About Bristol's Community Ales
A series of three ales brewed to benefit three local causes, Bristol's Community Ales raise thousands of dollars for the Colorado Springs community annually. The other beers in the series are Venetucci Pumpkin Ale, and Cheyenne Cañon Ale.