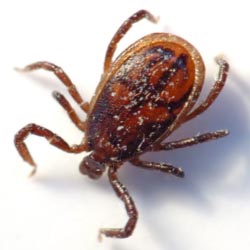 Detoxification is a key step in the healing process
Bali, Indonesia (PRWEB) March 21, 2013
NeoGen (http://www.lymediseaseneogen.com), a world leader in Medical healing programs, announces a new and unique Lyme disease healing program, which has led to cures in some patients within 8 weeks.
NeoGen Anti Aging, a world leader in providing unique medical anti-aging, detoxification, and natural healing programs to people from all over the world, is excited to announce that their Lyme disease treatment program is proving highly successful at offering hope of a cure to Lyme disease sufferers.
Dr. Theodore MD from NeoGen, explains why this revolutionary program is different from a typical Lyme treatment program.
"Lyme disease is a multi-factorial disease process triggered initially by the Borrelia bacteria, however it in most cases leads to a multi pathogen infective process affecting numerous body systems"
He adds: "Neogen's unique approach to healing focuses on all the aspects of Lyme disease, and uses a wide array of therapies that act synergistically to help the body eliminate not only the Lyme bacteria, but also all the co-infections, including viruses, molds, fungi, and parasites – all of which contribute to the ongoing disease. Without eliminating all of these pathogens Lyme disease will not be cured, hence why standard antibiotic treatments often fail."
"Detoxification is a key step in the healing process" Dr. Theodore adds, "without rapidly removing the very dangerous Lyme neuro and endo-toxins, permanent damage the body can and does occur. This program is unique in that it uses very powerful detox therapies such as whole body oxygen and ozone therapy to rapidly and quickly remove toxins from the blood and body, while at the same time killing and eliminating the Lyme bacteria as well".
Lyme disease is an epidemic and thousands of people every year are now suffering serious long-term pain and disability after contracting this serious illness. The disease, caused by the Borrelia burgdorferi bacteria, is thought to be transmitted following a tick bite, however many other modes of transmission have now been identified including: mosquitos, sexual contact, and even mother to unborn baby.
Unless the disease is treated with antibiotics within the first 24 hours of exposure the bacteria, there is a very strong chance that the infection will become chronic and be resistant to further antibiotic treatment. Many doctors advocate the long-term use (often years) of numerous very strong and dangerous antibiotics, which have not been shown to offer much of a long-term solution to this disease.
Now NeoGen is able to offer hope: by using a combination approach of various highly effective, yet very safe treatment modalities that have been carefully selected to work synergistically together, Lyme disease NeoGen has created what is arguably the worlds most effective Lyme disease treatment program.
Lyme disease can cause many symptoms can be split into 3 distinct stages. In the first stage a characteristic Lyme disease rash is the most prominent feature and occurs as early as 3 days after the Lyme tick bite, but more commonly after 7 days. Without treatment the rash gradually expands to an average of 15 centimeters in diameter, but may be as large as 60 centimeters.
Other Lyme disease symptoms in the early phase are feeling fatigued, headaches, a stiff neck, joint aches and pains, sometimes nausea, vomiting, and sore throat. There is usually a low-grade fever, however it can be as high as 104 degrees.
In the second stage of Lyme disease, the Lyme disease symptoms in adults are mainly cardiac and psychological and neurological.
Cardiac and Neurologic abnormalities usually start about four weeks after the tick bite, but they can occur as early as two weeks after the bite and up to months or even years later with a wide spectrum of involvement. Neurological problems can range from a mild meningeal irritation and headache, right through to severe meningitis, encephalitis, chorea, and demyelination. Depression and anxiety are also commonly seen symptoms of the disease.
The so-called "Lyme disease fog" is a classic sign of this infection. People often report that their brain is "foggy", or just dull and heavy and they cannot focus or concentrate for any significant length of time.
In the third stage or in chronic Lyme disease, arthritis is the classic symptom.
The arthritis of the third stage usually begins four weeks after the bite, although it may occur as early as one week afterwards or as late as three months later. The Lyme disease symptoms here tend to effect the large joints (often those closest to the initial rash) more commonly than small joints.
Many patients suffering from Dementia, Parkinson's disease, MS, Lou Gehrig's disease or ALS, have now been shown to have the Lyme bacteria present, which could very well turn out to be a possible cause of these conditions. More research in this area is still needed however.
If you are interested in further information regarding NeoGen's Lyme Disease Elimination Program you can visit their website at http://www.lymediseaseneogen.com or email them at lymediseaseneogen(at)gmail(dot)com.