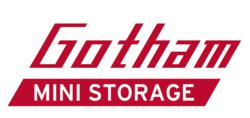 New York, NY (PRWEB) March 05, 2013
Gotham Mini Storage (gothamministorage.com), Manhattan's newest and most innovative storage facility is now open and welcoming New Yorkers to enter into its "NYC's Most Cramped Space Contest." Winners will be chosen by celebrity judges Rebecca Cole and Leslie Modell. Cole is an award winning and world renowned garden and interior designer with an NYC based design business, Cole GROWs. She is known for hosting Discovery Chanel's Surprise by Design. Modell is a famed NYC broker, real estate thought leader and Managing Director at exclusive brokerage firm Warburg Realty and is regularly featured on HGTV's Selling New York. Top prize gets up to a year of storage as well as room makeover tips.
Gotham Mini Storage team members, many of whom live in Manhattan, fully understand the everyday space constraints of living in the Big Apple. One team member recounts how he always has kept his old winter coats and files in his oven, which he never uses since he eats out every night. The development team for the project, Steve Schwartz, Jack Guttman, and Alex Holiday recognize that Gotham competes in a completely different market than one would find in more suburban locations. For that reason, Gotham has launched a contest in which every day New Yorkers can post pictures of their most cramped living spaces (bedrooms, kitchens, closets, or living rooms) on to the Gotham Mini Storage Facebook page.
Winners with most cramped space will win up to a year of storage and room makeover tips from Leslie Modell and Rebecca Cole, both of whom are authorities in NYC's uniquely global real estate and design market. Both Cole and Modell have been featured in such shows as Selling New York, Oprah, Surprise by Design and Open House NYC.
Located at the corner of 10th Avenue and 39th Street, Gotham Mini Storage is very convenient to residents of Manhattan's Hell's Kitchen, Chelsea, Midtown, and Upper West Side neighborhoods. The seven-story property features world class surveillance and monitoring, heated drive-in indoor loading area, music on the storage floor and complementary wireless internet throughout. The facility brings over 2,000 competitively priced brand new storage units to the up-and-coming Hudson Yards area of Manhattan. Sizes range from 4'x4' lockers through 80'x20' extra-large rooms. All units are customizable with shelves, lights, and clothing racks. Gotham will also offer customers optional extra tall 11-foot ceilings. Aisles throughout are climate controlled, well lit with energy efficient lighting, carpeted, have music and over 100 security cameras.
Customers enjoy free move in shuttle services, custom built units, a full suite of moving supplies, and concierge moving solutions by a team of helpful moving professionals—all designed to take the pain out of moving. More info can be found at facebook.com/GothamMini or by calling 212-563-6900.