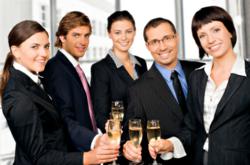 No other company offers our proprietary blend of legal herbal incense. We're proud of our dedication to providing our customers with the best product on the market and our spice incense made from all natural, legal herbs."
Irvine, California (PRWEB) March 06, 2013
Code Black Incense, the world's leading supplier of spice incense made from all-natural, legal herbs, is celebrating the company's second anniversary.
Code Black Incense has marked its second year in business. During this short period of time, the company has become the industry leader in supplying the highest quality legal herbal incense and has developed the most diverse, robust product line in the market. However, the achievement the company is most proud of is their reputation for outstanding customer service and immense satisfaction.
According to Sean Zenneth, "No other company offers our proprietary blend of legal herbal incense. We're proud of our dedication to providing our customers with the best product on the market and our spice incense made from all natural, legal herbs."
Featuring ten exclusive herbal incense blends, Code Black Incense leads the industry in variety and quality, but also in customer support. Part of their success stems from their dedication to doing everything possible to provide help and support for customers. That includes providing real customer service representatives to answer questions and take care of orders.
Sean goes on to say, "Our second anniversary wouldn't have been possible without the help of our amazing customers. We're proud to offer them support, assistance and help in any way that we can, including our rewards program. A quick look at our testimonials and reviews tells the real story – our customers love us because we love them."
Two years in the industry has allowed Code Black Incense to become the undisputed leader in high quality, legal herbal incense, and it is thanks to their commitment to customer service and unrivaled product quality that they can expect many, many more such anniversaries.
To find out more about Code Black Incense, make a purchase or contact the company, visit http://www.codeblackincense.com.
About Code Black Incense: Code Black Incense was founded to provide the highest quality herbal incense for the lowest price possible. The company works with a dedicated creative team to create, refine and produce legal incense for aromatherapy, religious and personal use. The company also operates a rewards program for their customers, and has a growing network of dedicated affiliates.