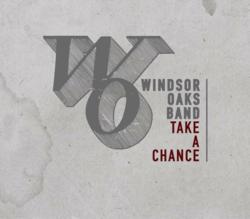 Raleigh, NC (PRWEB) March 05, 2013
Alternative rockers, Windsor Oaks Band, announces the release of their sophomore album, "Take a Chance" – available today at iTunes and major digital retailers. Produced by Steven Haigler (Pixies, Fuel, Brand New, Clutch) at VuDu Studios in New York, the album is sure to appeal to fans of Kings of Leon, Foo Fighters and Weezer.
The Raleigh-based band has been writing, recording and touring all over the East Coast for over three years. With the help of college radio spins and a growing online presence, Windsor Oaks Band has cemented their status as one of North Carolina's most promising up-and-comers.
"Windsor Oaks Band is one of those rare 'really has their act together' bands," says Deep South Entertainment's Dave Rose, author of the new book, 'Everything I Know About The Music Business I Learned From My Cousin Rick.' "They are talented, hardworking, and creative. We'll be hearing a lot more from them in the future!"
Shane Smith (lead vocals/guitar) and Alex Shepherd (drums) grew up in Cary, North Carolina in a neighborhood known as Windsor Oaks. When they partnered with Brandon Scott McLean (guitar/vocals) to form a band, the name was born.
"We wanted to pay tribute to where it all started," says Smith of the band name. "But after years of touring, we're excited about the new album and we're ready to extend our fanbase nationwide."
The band celebrated the release with a sold-out concert for fans on March 1st at Pour House in Raleigh. They have also just released a music video (http://www.youtube.com/watch?v=NYNj5_ikuFA&feature=youtu.be) for "Touch the Sky."
"The Windsor Oaks Band album 'Take a Chance' is a must have with it's soulful lyrics and its electrifying rock sound you can't miss," says Daveylove at Modern Problems Radio Show. "They make a guy like me wanna get up and get down."
For more information, visit http://www.WindsorOaksBand.com.
# # #