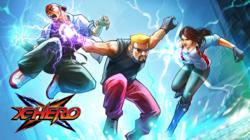 (PRWEB) March 06, 2013
Joyfort.com is excited to announce the Beta Testing of its new title, X-Hero! X-Hero is a newly developed game by Joyfort Entertainment and will be released for Beta Testing on March 5th 2013. X-Hero is exciting, compelling and innovative strategy game themed in future world where people have super powers looking for players to make it better!
Game Features
1. Action & Massively Multi-player
Struggling and fighting exist throughout the X-Hero story line. Different from the traditional real-time action games, X-Hero involves unique strategy and players-driven character development.
2. Wonderful Story line
With the development of the story, find the lost self in a political conspiracy. What will the one do? What will the country be like? Player's choices will guide their storyline as they live through the adventure.
3. Special Dungeon System
X-Hero supports a unique dungeon system which gives the player more fun. Hundreds of dungeons will appear in the game while only primary dungeons are opened during the closed beta. Start the furious adventure in X-Hero to find out the truth and enjoy the exciting fight.
4. Unique Crystal System
Crystal system is really an innovation of X-Hero. It provides a new strategy to choose the best way of self-training. The crystals can be equipped on player's heroes to enhance different attributes. With the crystals the heroes will be more powerful which help the player succeed in game adventure.
5. Entertainments
Need a break from fighting? Give the Roulette a shot for some surprising goods! Come forth and give luck a try!
Beta Testing Rewards
Come to play the Beta Testing version of X-Hero beginning March 5th! After testing the game, please help the game out by writing a review and posting suggestions on the official forum before Mar 20th, 2013. Joyfort.com will offer each top 7 reviewers one of the following designated rewards selected.
Amazon Gift Card $50 *2 and Apple Store Gift Card $10*5
Winners will be announced in this thread on Mar 29th, 2013. The winner will be contacted from Joyfort's GMs via Forum Private Message system for details.
Thanks for supporting Joyfort.com!
X-Hero Page: http://hero.joyfort.com/?source=prweb
X-Hero Contest Thread: http://forums.joyfort.com/forum-316-1.html