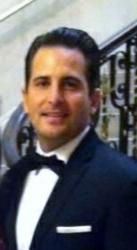 (PRWEB) March 05, 2013
LEID Products, LLC., the leader in electronic locker and cabinet storage systems with built in asset management and inventory control software, today announced its addition of Erik Pedersen to the management team to support growth initiatives. LEID Products biometric access control systems (BACS™) earned a US Patent last year followed by law enforcement industry recognition for its innovative storage solutions for weapons and evidence management. The company anticipates continued strong sales growth in 2013. Pedersen brings a wealth of business development and sales experience to the company and will support the expansion of the BACS System sales to the law enforcement, government, and college/university sectors.
"The BACS System has revolutionized the way agencies store, secure and track assets and evidence," said Sam Hoff, president, LEID Products, LLC. "Pedersen's dynamic personality and extensive sales business development background will support the company's efforts bringing the system to the industries we serve."
Pedersen brings five years of sales and management experience to LEID Products. Previously, he worked for Olympia Entertainment managing premium sales and business development for all Olympia-owned venues. Prior to Olympia, he was responsible for corporate sales with the Detroit Pistons. Pedersen earned a Bachelor's of Special Studies degree in sports administration with an emphasis in business, management, marketing and communications from Cornell College in Mount Vernon, IA. He also earned his Masters of Education degree from Marietta College, Marietta, OH.
LEID's BACS Systems are installed throughout the country; used to streamline operations at law enforcement departments, military facilities, medical facilities, and crime and research labs by securing, tracking and providing full accountability to clients' weapons, evidence, medications, and other critical assets.
LEID's earned the industry recognition while showcasing the BACS System last fall at the annual International Association of Chiefs of Police (IACP) Conference in San Diego. The largest meeting of law enforcement executives in the world; the IACP assembles the newest products and the latest technologies at the largest exposition designed specifically for law enforcement.
LEID's first acknowledgment was in Police Magazine when the publication honored LEID Products by including its BACS Evidence Management System in their "Best of Show" IACP Photo Gallery, noted by editors as one of the top 12 products of the 2012 IACP Show. In addition, the BACS System was one of just nine products included in the IACP "News and Notes" review section of Law Enforcement Technology Magazine.
About LEID Products:
Law Enforcement Intelligent Devices (LEID), LLC is the manufacturing leader of electronic locker and cabinet storage with biometric asset protection and control. Originally founded to assist police departments in securing guns, weapons, radios, etc. through an electronic tracking and fingerprinting system, LEID products are also utilized to track books within a library system, medical supplies, laptops and even business documents to selected personnel. Their Biometric Access Control Systems (BACS™) streamlines operations and provides full accountability for critical business assets. For more information and demonstrations of our products, visit http://www.leidproducts.com.