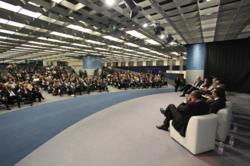 Export of Italian wine has increased some 7% in volume (4,7 billion Euro) in 2012, which is a very positive sign and reflects the appreciation of the quality of Italian wine. - General Director of Veronafiere Mr. Giovanni Mantovani
Rome (PRWEB) March 05, 2013
The 47th edition of the world's largest exhibition for wines and spirits will unite national and international professionals in Verona, Italy from Sunday the 7th to Wednesday the 10th of April 2013. An expected 145.000 visitors will seek to conduct business as 4.200 exhibitors showcase the breaths of Italian and international wines on 95.000 square meters. As announced today at the official press conference of Veronafiere and Vinitaly in Rome, this year's edition will have a special focus on technology and wine, in particular e-commerce, social media promotion as well as trade possibilities for Italian wine in the East-Asian region, including China.
The General Director of Veronafiere Mr. Giovanni Mantovani said: "Export of Italian wine has increased some 7% in volume (4,7 billion Euro) in 2012, which is a very positive sign and reflects the appreciation of the quality of Italian wine. The consumption of Italian wine in new frontier markets as well as traditional countries will be aided by initiatives such as OperaWine, VinitalyWineClub as well as the international events we continue to organise around the world. During Vinitaly, we invite professionals especially to our focus China seminar series."
Vinitaly International presents Digital Media Technology & Wine Series
On Monday 8th of April Vinitaly International presents the Digital Media Technology and Wine Series with an introductory seminar on the Chinese wine and spirits market at 10:00. The Ministry of Commerce People's Republic of China (MOFCOM) and Giorgio Prodi (Università of Ferrara) will present the latest statistics and regulatory changes for the market that is emerging as one important new frontier for Italian wines.
According to the INNEXT Report, Chinese wine imports were a total of 430 million liters (8.9% increase from 2011) in 2012 with a total value of 2.57 billion USD (18.1% increase from 2011). The average price of imported wine also increased by 8.5% to 6 USD per liter in 2012. As the exchange rate of euro is sliding, the imported wine volume will grow in future. The liters of imported bottled wine surpassed imported bulk wine in recent 2 years. It's predicted this phenomenon will last, because of higher price and more profit of bottled wine.
To register for the Vinitaly International Digital Media Technology & Wine Series for Monday 8th of April in Sala Salieri please register below:
Introduction Seminar: THE CHINESE WINE MARKET: STATISTICS AND NEW REGULATIONS – WHAT IS THE FUTURE FOR ITALIAN WINES IN CHINA? (10:00)
http://vinitalyinternationalintroductoryseminar.eventbrite.com/
Seminar Series 1: E-COMMERCE: BREAKING DOWN THE GREAT (E)WALL OF CHINA (12:00) http://vinitalyinternationalseminar1.eventbrite.com/
Seminar Series 2: SOCIAL MEDIA MARKETING & WINE (14:30)
http://vinitalyinternationalseminar2.eventbrite.com/
The next in the seminar series is focused on e-commerce and China with distinguished speakers from the largest online wine sales platform YesMyWine, Tmall and Alibaba Group, M1nt Cellars and Vinehoo. Scheduled speakers are Jared Liu (Founder and CEO of YesMyWine), Naran Andrejev (CEO of M1nt Cellars), Janet Wang (Head of International Business Development, Tmall (Alibaba Group)) and Alvin Huang (Founder of Vinehoo) that will explain the intricacies of conducting business in the very fragmented Chinese market. The seminar will also give opportunity to learn about the new VinitalyWineClub e-commerce platform that is to be launched soon.
After that the Social Media and Marketing Seminar will look at new ways of reaching and educating customers through established online media. The dialogue will be between the scheduled speakers Alder Yarrow (Founder of Vinography), Gong Dan (Senior Editor of Sh.QQ.com), Tencent Group (QQ and WeChat) and representatives from Facebook and LinkedIn Italy.
OperaWine - Finest Italian Wines: 100 Great Producers
A highlight that is not to be missed for Italian wine lovers is certainly the premier event to Vinitaly 2013, OperaWine. The second edition is again uniting the Icons of Italian wine in a symphony of 100 remarkable Italian wineries representing each of Italy's 20 regions on April 6th in the very heart of Verona. At Piazza Brà and Palazzo della Gran Guardia "Finest Italian Wines: 100 Great Producers" will have the principles of the wineries showcase one particular wine each to a selected audience of international wine professionals, journalists and aficionados. The event that is organized in collaboration with Wine Spectator aims at discovering the traditions, identity and heritage of the Italian oenologist culture whilst continuing to make people falling in love with Italian wines. A few tickets remain and can be purchased on http://www.operawine.it.
About:
Wine Spectator is the world's leading authority on wine that reaches more than 3 million readers worldwide, exploring wine's role in contemporary culture and delivering expert reviews of more than 15,000 wines each year. Wine Spectator is solely responsible for the choice of producers at the event.
Veronafiere is the leading organizer of trade shows in Italy including Vinitaly (http://www.vinitaly.com), the largest wine event in the world. In 2012, over 4200 exhibitors showcased their wines to 140,000+ visitors (35% from outside of Italy representing over 120 countries). The 47th Edition of Vinitaly will take place on 7th-10th April 2013 in Verona, Italy, with OperaWine (http://www.OperaWine.it) being the premier event having "Finest Italian Wines: 100 Great Wines" unite international wine professionals on April 6th in the heart of Verona. Veronafiere also created the Vinitaly International http://www.vinitalytour.com in 1998 to develop a global platform for the promotion of companies in the Italian wine and food sectors.
# # #