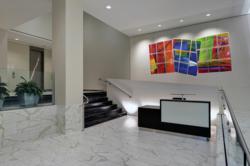 Our renovation at 1140 19th Street is transformative, bringing excitement to the entire block. The new design is simply stunning and will be the primary focus for both retail and office tenants looking to relocate in the Central Business District
Herndon, Virginia (PRWEB) March 05, 2013
American Real Estate Partners today announced that the ownership has recently completed extensive building renovations to 1140 19th Street to modernize both the exterior and interior portions of the building, transforming the property with a combination of modern architectural design and state of the art building systems which sets the standard for boutique buildings in Washington DC. 1140 19th Street sits within the bustling streets of Washington, DC's Golden Triangle, which has long been Washington's home to global corporations, law firms, non-profits and associations as well as the location of one of the city's most vibrant retail and restaurant scenes. Given this dynamic location, every effort was made to create an enhanced experience at the street level for both office and retail tenants with special emphasis placed on the unique outdoor dining patio. Additionally, ownership focused on expanding the amount of natural light to the interior spaces and utilizing new Class A common area finishes. American Real Estate Partners and The Davis Companies, the property's ownership, invested over $10 million in the renovations.
American Real Estate Partners manages the building, while American Real Estate Partners and CBRE jointly lease the property.
At 9 stories and 72,575 square feet, 1140 19th Street has been modernized with a new glass curtain wall entrance and façade, new interior finishes, enhanced retail space, state of the art elevator systems, and mechanical upgrades establishing a new standard for boutique office buildings in Washington. The multi-million dollar renovation was designed by the Washington, D.C. office of Fox Architects.
The building exterior has been modernized by the addition of an energy efficient slab-to-slab glass curtain wall with full-height windows that provide tenants with magnificent streetscapes of the 19th Street corridor and a newly designed outdoor dining area that office tenants, visitors and restaurant patrons can enjoy. Particular design emphasis was placed on the relocation of the main building entrance and lobby to maximize retail flexibility and properly position the entry for possible building expansion. Additionally, more prominent retail signage space was added to the building's exterior, lending added visibility to retailers.
Entering through the renovated two-story marble lobby is an unparalleled experience for tenants and their guests, which includes a newly designed concierge/security desk, commissioned artwork by renowned artist Linda Leviton, Italian marble flooring, back painted glass wall accents and additional high-end finishes. Newly installed modern, high-speed elevators consisting of Italian marble floors, stainless steel and back painted glass wall panels provide access to the office space offering 9,000-square-foot floor plates that allow for full floor identity. Over 30,000 square feet of renovated office space is located on the 3rd, 4th and 5th floors, with the fifth floor offering exclusive access to a 1,200-square-foot private terrace overlooking vibrant 19th Street.
Common area restrooms have been renovated with new partitions, mirrors, countertops, flooring, lighting, paint and are ADA compliant. Added building improvements included the addition of timers to the HVAC systems on each floor to reduce electrical usage, replacement of the building's roof and improvements to the garage surface. 1140 19th Street is convenient to all major roadways connecting to the city's vast transportation network. Public transportation is also blocks away with access to Metro's Red, Orange and Blue lines.
Within a two-block radius, tenants of 1140 19th Street can walk to over one hundred shopping and restaurant options, including both fine and fast casual dining. Adding to the convenience for tenants and visitors of 1140 19th Street, Noodles & Company will open a 3,249-square-foot restaurant on the building's street level in the fall of 2013. Noodles & Company is a fast casual restaurant serving noodles, salads and sandwiches from around the world. This location will be Noodles & Company's second restaurant in downtown Washington, DC. Restaurant patrons will be able to enjoy outdoor seating with views up and down bustling 19th Street.
"The renovations completed at 1140 19th Street demonstrate that The Davis Companies and American Real Estate Partners are committed to ensuring the quality of the property and the success of our tenants. The modernized 1140 19th Street will provide tenants with an efficient and attractive building in the heart of Washington, DC's business corridor," commented Jonathan Davis, CEO, CIO and Founder of The Davis Companies. "Our renovation at 1140 19th Street is transformative, bringing excitement to the entire block. The new design is simply stunning and will be the primary focus for both retail and office tenants looking to relocate in the Central Business District," added Douglas Fleit, CEO of American Real Estate Partners.
About American Real Estate Partners:
American Real Estate Partners, one of the most experienced real estate operating platforms in the United States, concentrates on commercial real estate assets and real estate financial instruments in markets along the Eastern Seaboard of the United States, including Washington, D.C., Virginia, Maryland, Raleigh-Durham, Florida, New Jersey and New York. The firm's current holdings total approximately 5.2 million square feet of Class A office, flex and industrial assets.
About The Davis Companies:
The Davis Companies, a real estate investment, development and management firm based in Boston, Massachusetts, was founded in 1976. On behalf of their clients, they have invested in approximately 140 properties representing over $2.5 billion in gross asset value, and have acquired approximately $550 million of commercial loans and real estate securities. Today, The Davis Companies, together with its affiliates, owns and manages a real estate portfolio of approximately 10 million square feet and is an active investor in real estate equity, debt, and fixed-income real estate securities.