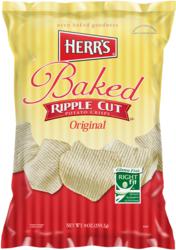 Nottingham, PA (PRWEB) March 19, 2013
Herr's introduced Baked Potato Crisps in 2009 to the delight of customers. Now the classic ripple cut potato chips meet the wholesome goodness of an oven-baked crisp. The result is Baked Crisps rippling with goodness. Herr's Baked Crisps are Gluten Free, Trans-Fat Free and contain no MSG. Herr's Baked Crisps have all the flavor, none of the guilt. What could be better?
Herr's Ripple Original Baked Potato Crisps and Herr's Aged Cheddar Baked Ripple Crisps are available in the following sizes:
9 oz. size bag Suggested Retail Price $3.99
1.375 oz. size bag Suggested Retail Price $0.99
1 oz. size bag Suggested Retail Price $0.35
Herr's® information can be found at http://www.herrs.com, http://www.facebook.com/herrs, twitter.com/herrfoods.
Note: Samples and a high resolution photo - available upon request.
About Herr Foods Inc.
A recognized leader in the snack food industry, Herr Foods Inc. is headquartered in Nottingham, Pa. The family-owned-and-operated company began 67years ago in Lancaster, Pa., and now employs over 1,500 people who make 340 delicious snack products that are available worldwide.