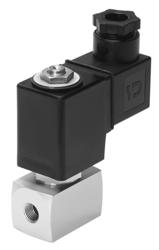 (PRWEB) March 07, 2013
HAUPPAUGE, NY, (March 4, 2013) – The new Festo solenoid valve VZWD can switch at any pressure from 0 to 90 bar without differential pressure – even in closed media circuits. This new valve is ideal for high pressure and dosing applications. It can be operated with water, air, and neutral media.
These units operate unimpaired by light levels of dirt. A closing spring holds the valve closed with the support of the pressure of the medium. In cases of pressure loss, the valve closes automatically. The maximum pressure range needed to control the medium is governed by the ratio on the valve seat size and the type of solenoid used. The VZWD is used for gaseous and liquid material flows up to a viscosity of maximum 22 mm²/s in factory and process automation.
VZWD are 2/2-way valves, normally closed, and are poppet valves with return springs. The series includes brass and stainless steel valves with a FKM seat-seal material. The valves come with either NPT or G threads. The units should preferably be mounted with the coil on top. Sizes range from 1/8 to ¼ inch, and nominal diameters are available from 1 to 6 mm. Operating pressure ranges from 0 to 10 bar, depending on coils used and nominal diameter. Process valve nominal pressure is PN 40.
Applications for the VZWD include: high pressures and low flow rates, vacuum systems down to 100mbar, venting gas and storage tank installations, safety shut-off functions in burner management systems, low pressure gas supplies for industry (DIN EN 161), gas dosing systems, high pressure cleaning, and pneumatic automation systems.
"The new VZ series of valves bring gas and liquid valve solutions to Festo's process offerings," said Craig Correia, process industry segment manager, Festo. "In all areas of process and discrete automated products and systems, Festo has made exceptional strides in the last few years. The company has taken a look at every aspect of customer need from design support to full lines of process and discrete offerings to put together a package of value second to none."
For more information about the VZWD and other new VZ neutral gas and liquid valves in addition to Festo's lines of ball, butterfly, and gage valves and automated controls, call Festo at 800-993-3786 and visit http://www.festo.com/us.