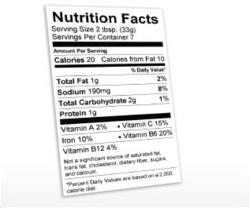 Orlando, FL (PRWEB) March 06, 2013
OnlineLabels.com®, one of the largest suppliers of blank labels for laser, inkjet, direct thermal and thermal transfer printers in the world, announced the launch of a definitive guide to creating nutrition facts. The guide, recently published by the company, offers a variety of resources to help customers create nutrition facts based on the ingredients of their food or beverage products.
"Creating nutrition facts can be a daunting process, especially for small businesses that don't necessarily have the time, resources or even know where to start," says Dave Carmany, president of OnlineLabels.com. "There are a few different ways to go about determining the nutritional information of products, and while we supply the tools to create nutrition fact labels, we also wanted to guide our customers in the right direction to help determine the actual nutrition facts."
The guide to creating nutrition facts can be found on the Company's website and serves as a resource for any small business in need of determining the nutritional information of their products. The free nutritional facts guide provides information about using labs for an analysis of nutritional facts, how to use a nutritional facts database, Food and Drug Administration guidelines as well as how to hire a food consultant.
In additional to the guide to creating nutritional facts, OnlineLabels.com also offers a completely free nutrition label generator that allows users to choose from three different nutrition label types including basic, vertical or horizontal size configurations. After selecting a nutrition label configuration, users simply enter in the nutrition facts to the pre-existing fields and a nutrition label is generated to save or print.
"Creating a nutrition fact label is an easy and simple process with our free nutrition fact label generator," adds Carmany. "Determining what the nutritional facts actually are is a little more challenging, but we hope we've made the process a little better by doing the legwork for our customers by letting them know what options are out there."
Launched 1998, Online Labels, Inc. offers one of the world's largest selections of blank labels for laser and inkjet printers. The company is a privately held label manufacturer and Internet retailer based in Longwood, FL. OnlineLabels.com serves customers all over the world for personal and professional labeling needs in a variety of applications. For more information, visit http://www.OnlineLabels.com or call 1-888-575-2235.