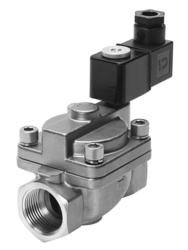 Hauppauge, NY (PRWEB) March 07, 2013
(March 4, 2013) – The new Festo solenoid valve VZWP, which features a piston seal instead of a diaphragm seal and a maximum operation pressure of 40 bar, is an ideal universal process valve for water, air, and neutral media.
The use of a sealing piston instead of a diaphragm means that even high pressures can be controlled with a large nominal diameter. The valve closes automatically if power is lost.
The valve can be operated wherever there is a pressure difference between the valve input and output. This includes applications where the medium is expelled into the open air or flows into an unpressurized container downstream of the valves. The VZWP is used for gaseous and liquid material flows up to a viscosity of maximum 22 mm²/s in factory and process automation.
The VZWP are 2/2-way valves, normally closed and are piloted piston poppet valves. Units are made of brass valves and customers have a choice of nitrile rubber and fluoro elastomer seals. The valves come with either NPT or G threads. Units should preferably be mounted with the coil on top. Sizes range from 1/2 to 1 inch. Operating pressure is from .5-40 bar. Process valve nominal pressure is PN 40. Differential pressure is .5 Bar.
Applications for the VZWP include: Bottling plants (secondary circuit), irrigation plants, well engineering, sanitary engineering, water treatment, mixing plants, pipeline construction, and pneumatic automation systems.
"To our process valve offerings, including ball, butterfly, and gate valves, Festo has now added gas and liquid valve solutions," said Craig Correia, process industry segment manager, Festo. "These process valves provide OEMs and end users with a new one-stop-shop for both process and discrete automation solutions from Festo, one of the most respected automation suppliers in the world."
For more information about the VZWP and other new VZ gas and liquid valves, call Festo at 800-993-3786 and visit http://www.festo.com/us.