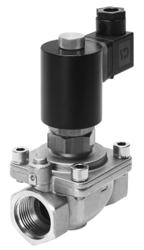 Hauppauge, NY (PRWEB) March 07, 2013
Festo introduced today the VZWF, a force pilot operated solenoid valve that can be used with water, air, and neutral media. This new valves utilize relatively small solenoids to control high pressures with large nominal diameters. The units can switch at pressures as low as 0 bar and close automatically in the case of a pressure loss in the circuit. These valves can be applied in closed media circuits.
The VZWF series is generally suitable for applications in which the medium can be vented downstream of the valve into the atmosphere or a tank. The VZWP is used for gaseous and liquid material flows up to a viscosity of maximum 22 mm²/s. Actuation is supported by the pressure of the medium, a special feature of the VZWF. Smaller coils can be used because of lower power requirements to open the valve – the energy of the medium contributes to opening.
The VZWF is a 2/2-way, normally closed poppet valve with a return spring. The series includes brass and stainless steel options with a choice of NBR, FKM, or EPDM seat=seal material. The valves come with either NPT or G threads. Units should preferably be mounted with the coil on top. Sizes range from ½ to 2 inches. Operating pressure ranges from 0 to 10 bar, depending on coils used and nominal diameter. Process valve nominal pressure is PN 40.
Applications for the VZWF include: filling systems (secondary circuit), water treatment, pipeline construction, steam boiler construction, liquid gas installations, hot water applications, heating circuits, power plant systems, petrochemical industry, pump systems, storage tank installations, and pneumatic automation systems.
"Gas and liquid valve solutions expand Festo's process offering that already include lines of ball, butterfly, and gate gas only valves and automated controls," said Craig Correia, process industry segment manager, Festo. "Process valves provide OEMs and end users the convenience, quality, and dependability of a one-stop-shop for both discrete and process automation solutions from Festo. And Festo offers a
host of online productivity tools that speed up time to market."
For more information about the VZWF and other new VZ neutral gas
and liquid valves, call Festo at 800-993-3786 and visit http://www.festo.com/us.