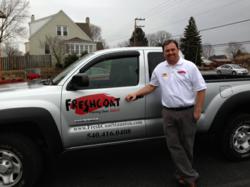 Staunton, VA (PRWEB) March 06, 2013
During his years of working as a construction manager in the home building industry, Matthew Sutton observed how vital painters were to the process. "Painters are so critical; after all it's their work homeowners first see. And I saw just how hard it was to find a good paint subcontractor," he said. With the launch of his new Fresh Coat Painters of Staunton franchise, Sutton now employs his own crew of experienced, professional painters.
"When I was in the construction business, painters were always the hardest to find, with the highest turnover. That's one of the reasons why I really appreciate Fresh Coat, and am excited to be a Fresh Coat owner, because they subscribe to the same business model of professionalism that I do," Sutton noted.
"Painting is an industry with a negative reputation – late arrivals, messy clean-up, sloppy workmanship – so those who are professional appreciate the opportunity to work for a company that provides pay, benefits and steady work," said Bernard Brozek, president of Fresh Coat. "That professionalism is one of our biggest selling points. Because Fresh Coat hires only employees, never subcontractors, our model offers stability to painters in a high-demand industry with too many fly-by-night operators."
Born and raised in Staunton, Sutton signed up for the United States Army after high school, serving in the first Desert Storm before receiving an honorable discharge in 1991. In 1995 he married Dr. Angela Sutton and the newlyweds moved to Charleston where he embarked on his long-term career in the housing industry. In 2007, as the housing market shifted, Sutton, his wife, and their two daughters, 12-year-old Hannah and four-year-old Madi moved back to Virginia. Sutton realized his time in the housing construction industry offered him valuable insight and experience and began researching various franchises before settling on Fresh Coat.
"Given my background, I believed painting would be the best way to get back into the construction industry. One of the main reasons that I went with Fresh Coat is the call center, where someone is always there to take that call and answer any questions 24-7," Sutton said. "Fresh Coat stresses professionalism, such as being on time and finishing the job the way the customer would like to see it finished. These things are important to me as well."
Brozek said that helping owners succeed is of paramount importance to the company. "Matthew comes to us with extensive experience in the construction and remodeling industry, so our goal is to enhance that knowledge and support him with top-notch marketing, training and resource materials."
Fresh Coat owners have a range of corporate offerings that support their clients and make the process smoother, including a 24/7 call center, proprietary EPIC quoting system, Paint Now-Pay Later same-as-cash financing, Automatic Touch-Up for businesses, and fund-raising opportunities for charities.
"Our owners understand that running a painting business isn't about painting," Brozek noted. "It's about the client's entire experience from that first call to the job completion and beyond. It's about building a long-term relationship."
Sutton has already signed his first painting contract and submitted bids for additional jobs. Online job ads yielded a slew of resumes, which Sutton narrowed down one newly-hired painter. As business dictates, he noted, he'll bring more painters on board. His past construction experience and new training as a Fresh Coat owner -- "it's all coming into play now," he said.
To learn more about Fresh Coat Painters of Staunton or to schedule an on-site quote for residential or commercial projects in Staunton, Harrisonburg, Charlottesville, Wintergreen, Waynesboro, Crozet or their surrounding Virginia communities call 540-416-0408 or visit http://www.freshcoatstaunton.com.