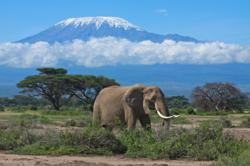 The Serengeti Migration received more votes and more #1 votes making it a standout wonder of nature.
(PRWEB) March 06, 2013
(LAS COLINAS, Texas) – The Seven Natural Wonders of the World feature spectacular wonders of nature like the Grand Canyon and the Great Barrier Reef. These wonders of nature now have company with the newly declared 7 Natural Wonders of Africa.
As one of the world's natural wonders, Victoria Falls serves as the Ambassador to Africa's 7 Wonders. Zambia Tourism Board Director and Board Secretary Stein Liyanda stated, "We are honored to serve as Ambassador to Africa's great wonders and extend huge congratulations to each of the winners."
The Seven Natural Wonders of Africa were declared last month in Arusha, Tanzania with Mount Kilimanjaro being introduced first as a pinnacle wonder of nature. The remaining six natural wonders include the Red Sea Reef, Nile River, Ngorongoro Crater, Sahara Desert, Okavango Delta, and the Serengeti Migration.
The 7 Natural Wonders of Africa were determined by experts from around the world. The voting body pulled from conservationists such as members of the International Union for the Conservation of Nature and other leading organizations such as Conservation International. UNESCO President Francesco Bandarin had counseled Seven Natural Wonders to avoid public voting which is highly influenced by marketing, advertising, and social media.
Tanzania was fortunate to discover it would feature more than one wonder of nature. Dr. Aloyce Nzuki, Managing Director of the Tanzanian Tourism Board said, "We were excited to discover that our beautiful country was home to three of Africa's wonders of nature. The Tanzanian people are committed to share them with the world and do everything possible to protect them for future generations."
Mount Kilimanjaro and Ngorongoro Crater are both solely in Tanzania with the Serengeti Migration being a wonder of nature shared between Tanzania and Kenya. The Serengeti Migration received more votes and more #1 votes making it a standout wonder of nature. "We welcome the world to Tanzania to explore these wonders and experience the various attractions in Tanzania," Dr. Nzuki added.
The Nile River and Sahara Desert are both wonders of nature shared by 9 or more countries. Many people first think of Egypt when it comes to the Nile, but Uganda is home to the Nile source and the famous Murchison Falls.
Within the week of the declaration, Uganda Minister of Tourism Maria Mutagamba stated on national television, ""Of course we know that the Nile is a trans-boundary water body, it cuts across nine countries, so it's a shared responsibility but where it starts from here, we've got to make sure that we protect that reserve, so in future we shall be declaring the Nile as a protected area under the custody of the central government."
The mission of Seven Natural Wonders is to promote and protect the natural wonders of the world. With the newly declared protected area Dr. Phillip Imler, President of Seven Natural Wonders noted, "We are only starting our declaration process and the mission is already succeeding in protecting our wonders of nature."
The only question now is which continent is next? Seven Natural Wonders is looking to hear from the public on their guess on who will or should be next? Will it be Asia, Europe, Oceania, North America or South America? Let your voice be heard at SevenNaturalWonders.org.