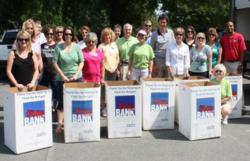 We are honored to be chosen as one of North Carolina's best employers. As employees of Carolina Farm Credit, we feel blessed be a part of this organization and we're very proud to see our company recognized by this award.
Statesville, NC (PRWEB) March 07, 2013
Carolina Farm Credit was recently named as one of the 2013 Best Employers in North Carolina. The list of the Best Employers in North Carolina was created by Business North Carolina, the Society for Human Resource Management (SHRM) – NC State Council and Best Companies Group.
This statewide survey and awards program is designed to identify, recognize and honor the best places of employment in North Carolina, benefiting the state's economy, its workforce and businesses. The 2013 Best Employers in North Carolina list is made up of 21 companies. Carolina Farm Credit has been named the 5th Best Employer in North Carolina in the small to medium-sized company category.
"We are honored to be chosen as one of North Carolina's best employers. As employees of Carolina Farm Credit, we feel blessed be a part of this organization and we're very proud to see our company recognized by this award," said Mike Morton, Carolina Farm Credit CEO.
To be considered eligible for participation, companies were required to be a: for-profit, not-for-profit business or government entity, a publicly or privately held business , have a facility in the state of North Carolina with at least 15employees and have been in business a minimum of 1 year.
Companies from across the state entered the two-part survey process to determine the Best Employers in North Carolina. "The selection process was quite extensive," says Carolina Farm Credit Human Resources Manager, Sarah Rachels. "We were evaluated using a two-part survey process that looked at our business practices and culture and our employees were also surveyed to measure their satisfaction." The combined scores determined the top companies and the final ranking. Best Companies Group managed the overall registration and survey process in North Carolina and also analyzed the data and used their expertise to determine the final rankings.
Carolina Farm Credit was recognized for its promotion of work-life balance, community service, and cooperative business structure. As part of the work-life balance, employees are encouraged to put their spiritual lives first, family second, and work third. Employees are given paid time off to participate in community service and the company as a whole supports numerous local charities. An employee wellness committee sponsors a fitness challenge, biggest loser competition, partial reimbursement for gym memberships, weight loss programs, and home gym equipment. Employees are also encouraged to participate in mentoring opportunities, leadership workshops and seminars, and are invited participate in setting the goals and objectives for the company.
The cooperative structure is also a benefit to working for Carolina Farm Credit. As a cooperative, Carolina Farm Credit shares a portion of its profits with its member-borrowers in the form of a patronage refund.
Visit the Carolina Farm Credit website for more information.
For more information on the Best Employers in North Carolina program, visit http://www.BestEmployersInNC.com.
Carolina Farm Credit is a stockholder-owned cooperative providing short, intermediate, and long-term financing to full and part-time farmers and agricultural-related businesses and also provides financing for the construction and purchase of homes in 54 counties through 36 service centers. Other financial services available are credit life insurance, crop insurance, appraisal services, leasing programs and financial planning.
Carolina Farm Credit serves over 8,800 members with loans outstanding totaling more than $1.3 billion. The association's territory covers the western half of North Carolina, with service centers located in Albemarle, Asheboro, Asheville, Boone, Brown Summit Burnsville, Carthage, Concord, Ellerbe, Graham, Hendersonville, Hillsborough, Jefferson, Lenoir, Lexington, Lincolnton, Marshall, Mocksville, Monroe, Murphy, Newton, Pilot Mountain, , Roxboro, Rural Hall, Salisbury, Shelby, Siler City, Sparta, Spindale, Statesville, Taylorsville, Wadesboro, Waynesville, Wilkesboro, Yadkinville, and Yanceyville.
Directors for Carolina Farm Credit are Joseph A. Lail, Chairman, Shelby; Mark A. Bray, Vice-Chairman, Lawsonville; John M. Barnard, Statesville; E. Bernard Beck, Seagrove; W. Rex Bell, Statesville; David M. Coltrane, Pleasant Garden; Susie J. Gambill, Sparta; W. Steve Love, Graham; Bobby J. "Bud" Matthews, East Bend; Clark M. Newlin, Haw River; Thomas E. Porter, Jr., Concord; Tony L. Ragan, Sanford; D. Kaleb Rathbone, Waynesville; Lewis E. Smith, Lincolnton; Vickie N. Smitherman, East Bend; L. Kim Starnes, Salisbury; Dr. Alton Thompson, Summerfield.