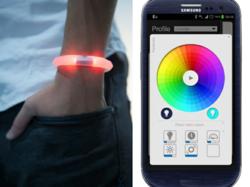 We are beyond excited that popular publications and people are sharing EMBRACE+! We are definitely feeling the love!
Seattle, WA (PRWEB) March 05, 2013
For everything from guitars to smart watches to 3D printers, Kickstarter has become the trusted source for bringing us the latest and greatest in emerging technologies. The most recent gadget to catch the attention of the crowdfunding world is EMBRACE+, and the news is lighting up all over the web.
EMBRACE+ is a notification bracelet for iPhone and Android owners. Users simply need to download the app on their smartphone, customize alerts, and wear the EMBRACE+. The bracelet will then light up and notify them of calls, emails, text messages, activity on social networks, or calendar events while they lead their busy lives.
Each EMBRACE+ is unique to the owner because of the customizable EMBRACE+ App. In the app, users determine which notifications their smart bracelet will light up for. Then, they assign one or two colors, number of blinks, brightness levels, and vibrations per alert. Users can further customize their EMBRACE+ by adding alert profiles based on their current activity. This way, their smart bracelet will light up for different notifications when they are at work versus at a bar. Furthermore, the EMBRACE+ App allows users to pick colors from the entire RGB color wheel to show off their individual tastes and fashion. Via the customizable app, EMBRACE+ becomes a unique and stylish smart bracelet that is designed entirely for, and by, the owner.
The EMBRACE+ Kickstarter campaign began on February 20th, and gained a lot of attention right out the gate. However, it wasn't until recently that the notification bracelet really started catching the eye of popular websites. Most recently, EMBRACE+ was featured on Mashable, CNET, psfk, Mac Observer and Gizmag, where the articles were highly shared throughout social networks.
Founders of EMBRACE+, Rudi Beijen and Paul Hornikx, couldn't be happier by the press coverage. Beijen says, "We are beyond excited that popular publications and people are sharing EMBRACE+! We are definitely feeling the love!" However, the EMBRACE+ duo are also keeping the big picture in mind. "We definitely appreciate everyone spreading the word about EMBRACE+," says Hornikx, "but we still have a journey to reach our crowdfunding goal."
With 17 days left in their Kickstarter campaign, EMBRACE+ still needs your help to make their dream a reality. Consumers can buy EMBRACE+ starting at $49, or pledge more for the various levels. As backers spend more, they are rewarded with limited Kickstarter Green editions, or personalized hand printed message. To purchase the EMBRACE+ or learn more about the smart bracelet, head to their Kickstarter page http://bit.ly/EmbraceKS. Connect with EMBRACE+ on Facebook and Twitter!
About RKB Global and VentureTech
Both VentureTech and RKB Global, founded by Paul Hornikx and Rudi Beijnen
respectively, provide product development services. This includes concepting,
engineering, and realization. Paul has been active in product manufacturing and
engineering for more than 20 years, and previously worked for Microsoft Home
Entertainment. Rudi started his company in 2008 and has supplied global
companies like Tech Data and QVC.