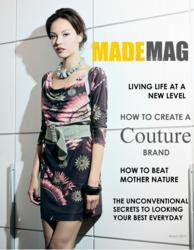 "We are what we repeatedly do. Excellence, then is not an act, but a habit." ~Aristotle
(PRWEB) March 07, 2013
The March issue of MADE Magazine (MadeMag) is on stands now. A new logo is introduced this month but the content of the issue still has all the great articles, chic, cheeky humor and sass that the magazine is known for.
In the March issue you can expect to find an eclectic variety of articles. On the topic of Beauty and Fashion there is How to Beat Mother Nature - (who isn't looking for that holy grail?), The Unconventional Secrets to Looking Your Best Everyday, and a witty article on The Power of a Par of Boots. With a bit of satire, the editor Ali Craig writes on "When Did I Become a Ma'am" and in Health and Wellness Nutrition expert Michael McCauley writes about Healthy Eating Every Day. For Business and Brand Nikkea Devida brings "Does Your Business and Your Life Fit Just Right - For You." There is a little something for everyone.
MADE Magazine is a magazine for success minded, ethics driven & fashionably chic women who are changing the world.