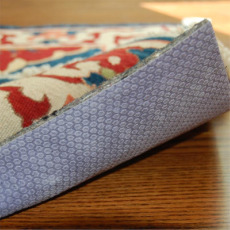 We are proud to be the authorized online supplier of genuine Durahold Rug Pad.
Bethel, CT (PRWEB) March 07, 2013
Durahold Rug Pads is proud to announce it is now the leading online supplier of genuine Durahold rug pad at discount prices. Based on its customer service practice, prompt shipping and excellent prices, the company has been selected as the authorized supplier of all sizes and shapes of Durahold Plus rug pad.
"Durahold Rug Pad is the original and oldest non slip rug pad made in the USA and we are very pleased to offer such a reputable product", states Paola of Durahold Rug Pads. "We care so much about the product that we even use it in our company name and in our domain name to prove we are all about Durahold Rug Pads" Paola explains that while most companies offer a wide variety of brands, Durahold Rug Pads insists on offering only genuine Durahold Rug Pad.
The company has been chosen as the leading distributor based on a few criteria, to include its variety of rug pad sizes and shapes, prompt and professional processing and shipping of orders, custom cut options, free shipping and the best prices found anywhere on Durahold Rug Pad. The warehouse stocks rolls of Durahold that are actually cut to order. Unlike most other rug pad supply stores, the companmy handles every aspect of each Durahold rug pad order, from cutting to shipping. This assures full control of every order with the highest quality standards, something that Durahold is known for.
Durahold Rug Pads offers safe and secure shopping for genuine Durahold rug pad in all standard sizes and shapes, with the option to request a custom rug pad as well. The company is based in CT and is part of The Web Corner Stores family of rug pad stores where each rug pad brand is offered through its own web site.