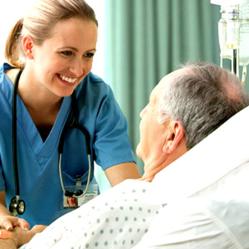 If patients do not receive the treatment they should, and mistakes are made, it is right that they are entitled to seek compensation
UK (PRWEB UK) 7 March 2013
Medical misdiagnosis is more pervasive than many might think. It is difficult to know how many illnesses are misdiagnosed, as many of them going unreported or unrecognised by medical staff.
With that said however, it is estimated that 1 in 6 patients are given the wrong advice or treatment by doctors[1]. For the majority of patients, this can be harmless, with the illness or injury running its course without any serious repercussions, however there are also cases that lead to a patient facing considerable, prolonged suffering and deterioration, and in some cases, death [1].
Misdiagnosis can occur for a number of different reasons, although it is usually the result of human error; as all people, including medical staff are susceptible to making mistakes. The most common reasons for misdiagnosis include:

Inexperienced or improperly trained medical staff
Lack of staff on duty causing saturated hospitals and surgeries leading to overworked and un-alert medical personnel
Failure to identify certain symptoms and properly diagnose the underlying issues
Failure to recognise high risk patients that require more immediate and extensive medical care including the absence of the proper medical tests that needs to take place
Underestimating the extent of the illness and furthermore failing to refer them to a specialist that is able to deal with the matter properly and take the appropriate measures.
Miscalculations or errors with testing
Delayed results
Defective machinery
There have been over a thousand misdiagnosis cases that have come to light since the mid Staffordshire crisis[2].
One of the most shocking stories to be disclosed, was the case in which the Telegraph reported four generations of the same family as all having died from either medical negligence or misdiagnosis. The youngest being six day old baby, Nyah Lintern, who failed to be diagnosed with four holes in the heart and died at home after being released from the hospital in 2007. Mrs Laurie Gethin, her aunt, died of lung, bone and lymph cancer after being told the wrong information and was misdiagnosed for 18 months despite allegedly clear symptoms. The cancer was only then discovered when Mrs Gethin was tested at another hospital. [2]
After the Mid Staffordshire uproar, many NHS officials are looking into the state of care in their districts, trying to improve patient care as much as possible; however the rate of compensation pay outs has drastically risen in the last 5 years with many patients filing successful misdiagnosis claims[3].
According to The Telegraph who investigated the rise of misdiagnosis in the UK, a Department of Health spokesman said:
"Unsafe care will not be tolerated in a modern NHS. The vast majority of the millions of people seen by the NHS every year do get good quality, safe and effective care. However, if patients do not receive the treatment they should and mistakes are made, it is right that they are entitled to seek compensation" [3]
For those who believe they have suffered at the hands of the wrong diagnosis; for any medical condition, it is imperative that they seek professional help as quickly as possible.
If it is found that a misdiagnosis has been made, there may be grounds for a misdiagnosis claim. In which case, it is advised that you contact a medical negligence solicitor to find out the appropriate course of action for you to take.
[1] The Telegraph- One in six NHS patients misdiagnosed, 21st Sept 2009
telegraph.co.uk/health/healthnews/6216559/One-in-six-NHS-patients-misdiagnosed.html
[2]The Telegraph- Stafford Hospital scandal: the victims who died needlessly, 6th Jan 2013
telegraph.co.uk/health/heal-our-hospitals/9782478/Stafford-Hospital-scandal-the-victims-who-died-needlessly.html
[3]The Telegraph-NHS compensation to misdiagnosed patients rises to £98 million, 7th June 2012
telegraph.co.uk/health/healthnews/9316982/NHS-compensation-to-misdiagnosed-patients-rises-to-98-million.html
About Asons Solicitors:
Asons Solicitors is a Bolton-based law practice that specialises in personal injury and medical negligence compensation claims. Founded by brothers Imran Akram and Kamran Akram, Asons Solicitors has developed to become a young and dynamic law firm that delivers practical solutions to clients in times of difficulty. Their continued focus on their staff has seen them awarded with the Investors in People "Gold Award"; which is reflected in the professional and personable approach they take in working with clients. They strive to grow and to develop, and their supportiveness and attention to detail ensures that their clients use them time and again.
For further information contact:
Email: info(at)asons(dot)co(dot)uk
Website: http://www.asons.co.uk