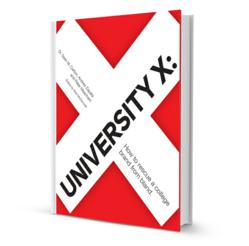 (PRWEB) March 05, 2013
Baltimore-based interactive marketing agency, idfive, is proud to announce the release of its book, University X: How to Rescue a College Brand from Bland. Authored by idfive Chief Creative Officer Dr. Sean Carton, Executive Vice President of Stragey Andres Zapata, and Marketing Director Pete Meacham and edited by Creative Director Matt McDermott. The book, which offers real, actionable advice for higher ed marketers is the first collaborative book by the authors, but is Carton's 9th book and Zapata's 3rd.
As pragmatic marketing practitioners, the idfive team understood the need to provide real world advice in a format that is digestible by busy professionals. As a result, University X breaks free from boring theory and vague advice, while providing a lively, accessible, and straightforward look at the things marketers can do today to improve their school's marketing campaign tomorrow.
An early release of University X was shared with members of the higher ed marketing community. Peter Toran, Vice President of Planning and External Affairs at the University of Baltimore characterized the book as "direct," "colloquial" and "smart."
Why write a book?
With primary and secondary research, idfive found itself constantly debunking conventional wisdom and what other agencies had "sold" clients. "We hope University X either gives higher ed marketers a sense that they are on the right track or gives them a platform to make the necessary adjustments," said Andres Zapata, idfive's Executive Vice President of Strategy and Maryland Institute College of Art Adjunct Professor. "After all, higher education is one of the most fickle industries in marketing today. Decreasing enrollments, spiking tuition, and soft job markets have made it more challenging than ever to promote the value of a college education. That's daunting stuff!"
Why give the book away?
"Including myself, there are four college professors at idfive. As an educator and former Dean, it should be clear that our commitment to higher ed runs very deep. It's only natural to offer this book for free," explained Dr. Sean Carton, nine time author, idfive's Chief Creative Officer and Professor of the Practice at the University of Baltimore. Digital copies of the book will be free through the end of March 2013. To download a free copy of University X, please visit universityx.idfive.com.
Starting April, 2013 University X will be available for sale through Amazon.com, GooglePlay and iTunes. Paperback copies of University X can be ordered by visiting universityx.idfive.com.
Why the title "University X"?
"Remember the old TV commercials for laundry detergents? The ones where the name brand would go up against the nefarious Brand X," describes Matthew McDermott, idfive's Creative Director. "The faceless, nameless, thoroughly unappealing Brand X. It served as the foil for the hero product. Everything it could do, our name brand detergent could do brighter, whiter, better. Unfortunately, higher ed is filled with its fair share of Brand X's. We hope this book can help marketers avoid the 'x' or 'un-x' their colleges and universities."
About idfive:
idfive is an award winning integrated, interactive advertising, web design, and brand consulting agency. Founded in 2005, the Baltimore-based agency creates working solutions for clients throughout the United States. Specializing in strategic marketing and web solutions for clients in the fields of higher education, not-for-profit and anyone else whose mission is to do good, idfive brings an unparalleled level of expertise in cutting edge technologies and informed design to its marketing strategies. idfive utilizes the principals of informed design to focus real knowledge of market, audience, competitiveness, design and technology to create strategies that forge results.
For more information on idfive, please contact Colleen Riopko at colleen.riopko(at)idfive(dot)com or visit http://www.idfive.com.