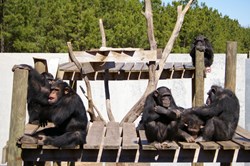 Chimpanzee Discovery Days are the only regularly-scheduled opportunities for the public to visit the sanctuary
Shreveport-Bossier, LA (PRWEB) March 06, 2013
Nature, science, education, family and fun all describe Chimp Haven's Chimpanzee Discovery Days. Located in the Eddie D. Jones Nature Park at 13600 Chimpanzee Place in Keithville, La., the National Chimpanzee Sanctuary offers this once-a-month event, rain or shine, from 9 a.m. until noon, March through June and September through November. Chimpanzee Discovery Days are the only regularly-scheduled opportunities for the public to visit the sanctuary, which is home to more than 120 chimpanzees that have been retired from the entertainment or medical research industries.
Admission is free, but guests are encouraged to bring a contribution for the chimpanzees. Among the items needed are fresh or canned fruits and vegetables, unshelled nuts, peanut butter, sugar free cereals, sugar-free gelatin and pudding mixes, pretzels, sugar free juice and seeds or starter plant donations for Chimp Haven's vegetable gardens.
A variety of themes are set for 2013, along with the second annual Earth Day and Fall festivals, which will be held in conjunction with Chimpanzee Discovery Days this spring and fall. Visitors, separated by a water moat from the chimpanzees, are able to view them in a wooded setting. Staff interpreters help guests identify the chimpanzees and their behaviors as they forage for food and interact with one another. The opportunity may arise for spectators to catch a glimpse of the youngest members of the colony, as well as many of the recent arrivals from the New Iberia Research Center.
Chimpanzee Discovery Days are always a unique experience, with different entertaining and educational opportunities each month. Regardless of the variety of activities and themes, Chimp Haven's educational goals consistently focus on increasing awareness of endangered primates, particularly chimpanzees, and the need for their conservation in the wild and protection in captivity.
Following Chimpanzee Discovery Days, visitors are invited to attend Chimp Chat & Chew. This event includes a behind-the-scenes hayride tour of the sanctuary, lunch and a presentation by one of the staff. The 2013 Chimp Chat & Chew dates are: March 16, May 18, June 15, September 21 and November 16, beginning at noon: $40 adult/$20 child. Reservations are required. To RSVP for Chimp Chat & Chew or for directions to the sanctuary call (318) 925-9575 or visit http://www.chimphaven.org.
Keithville, La., home of the Chimp Haven sanctuary, is located just 18 miles south of Shreveport-Bossier. For visitor information on Shreveport-Bossier: Louisiana's Other Side, including area hotel and restaurant listings, visit http://www.shreveport-bossier.org or call 888-45-VISIT.
2013 Chimpanzee Discovery Days Dates and Themes:
March 16, 9 a.m.-12 p.m.: Chimpanzee Artists
April 20, 9 a.m.-1 p.m.: Second Annual Earth Day Festival
May 18, 9 a.m.-12 p.m.: Endangered Species
June 15, 9 a.m.-12 p.m.: Me & My Dad
September 21, 9 a.m.-12 p.m.: African Peace Festival
October 19, 9 a.m.-1 p.m.: Second Annual Fall Festival
November 16, 9 a.m.-12 p.m.: Chimp Haven Celebrates National AIDS Awareness Month:
Chimpanzees in Science & Medicine