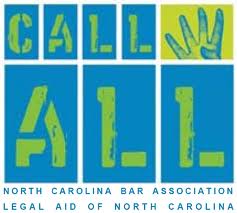 "Serving our community is very important to us at Miller Bowles Law." - Chris Miller, Partner
Charlotte, North Carolina (PRWEB) March 05, 2013
Miller Bowles Law attorneys Kate B. Miller, Chris Miller, and Valerie Gefert joined approximately 500 other North Carolina attorneys at the 2013 Justice 4 ALL Service Day in conjunction with the North Carolina Bar Association. Kate, Chris, and Valerie served in the Charlotte call center fielding calls from all over North Carolina on family law issues, including divorce, alimony, child custody, child support, and equitable distribution.
The purpose of the Justice 4 ALL Service Day was to provide legal information and referral resources to the callers with North Carolina related matters. The Miller Bowles Law attorneys aided in answering a record breaking number of calls from the public at the Service Day. This year the Service Day answered nearly 10,000 calls by the end of the day, an increase from the previous record of 8,870 calls. The Charlotte call center specifically answered approximately 1600 calls by the end of the day and was staffed by about 80 volunteer attorneys.
Miller Bowles Law is a full-service Charlotte Family Law firm located in the historic district of Dilworth in Charlotte, North Carolina. The attorneys at Miller Bowles Law have over 15 years of combined experience in representing clients in Charlotte family law cases and family law cases in surrounding counties including Union, Gaston, Iredell, and beyond. Our mission, simply stated, is to provide the highest-quality legal representation to our clients so that each feels supported and well-prepared to face the family law court system.