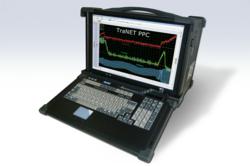 Available with up to 24 channels and sample rates up to 240 MS/s, the flexible TraNET PPC enables precise data acquisition from multiple points simultaneously.
Monroe, NY (PRWEB) March 05, 2013
Elsys Instruments, a leading manufacturer of custom and standard fast, high-precision data acquisition systems, now offers its highly accurate transient recorder technology in a portable, ruggedized system for in-the-field measurements. Available with up to 24 channels and sample rates up to 240 MS/s, the flexible TraNET PPC enables precise data acquisition from multiple points simultaneously.
The new system combines Elsys' high-speed, LAN-controlled instruments with a robust industrial PC for flexible data acquisition in a number of harsh and mission critical environments, including power plant maintenance, electric traction engine testing, ballistics and explosive testing.
The LAN connectivity enables reliable, standalone operation in remote applications as well, such as structural health verification on bridges and buildings, seismic activity monitoring or stray voltage detection from defective power lines.
Channel configurations of 4, 8 and 12 are available in addition to the 24, depending on application needs. Each channel provides up to 128 MB of acquisition memory.
Different Elsys PCI/PCIe-compatible TPCX and TPCE digitizers comprise the heart of the TraNET PPC, depending on specific application needs. The modules offer a typical measurement precision of ±0.03% with transfer speeds of up to 2.5 GB/s on the PCIe-compatible modules.
These advanced digitizers offer many sophisticated features such as single-ended and differential inputs, large input voltage and offset ranges, advanced trigger capabilities with an external trigger, programmable anti-aliasing filters as well as ICP input for piezo sensors and digital inputs.
The new TraNET PPC offers several different recording modes to address specific data requirements. Scope mode, similar to an oscilloscope, enables quick configuration of acquisition parameters for simply visualizing and analyzing single-shot events.
Continuous mode acquires and writes data onto the internal hard disk at a high speed with no loss of data or dead times between events. The capture length is limited only by the size of the hard disk.
Block mode divides the available onboard data acquisition memory into absolute or relative time-stamped blocks and is especially useful for capturing signal bursts where only relevant data needs to be recorded. Dead time between blocks is in the range of a few sample intervals.
The most sophisticated mode, Event Controlled Recording (ECR), provides "intelligent streaming" for troubleshooting and long-term monitoring applications. ECR uses smart trigger logic that allows adjacent channels to overlap ensuring all relevant data is captured and eliminating dead time between triggers. In addition, every channel can acquire waveform data independently on trigger command as well as synchronously with associated channels.
The easy-to-use, portable TraNET PPC comes equipped with a large 17" LCD display, a full keyboard and touch pad as well as device drivers for Windows and Linux, with the ability to be remotely controlled over Gbit Ethernet. The PC also includes an Intel Core2 Duo processor, 2 GB of RAM and a 500 GB SATA hard drive.
The unit can be synchronized with other Elsys equipment to build large scale systems and is compatible with the TranAX software, featuring 50 scalar functions and a built-in formula editor, to become a turnkey solution. When used in conjunction with TranAX, the TraNET PPC enables rapid channel configuration and enhanced post-processing analysis of complex waveforms.
Pricing for a TraNET PPC starts at $13,500. Delivery is six weeks ARO.
For additional information, visit http://www.elsys-instruments.com/products/tranet_ppc.php?lang=EN or contact Klaas Vogel, Elsys Instruments, 234 Cromwell Hill Road, Monroe, NY 10950; email: klaas.vogel(at)elsys-instruments(dot)com; phone: 845-238-3933.
For high res download and full text:
http://www.simongroup.com/PressRoom/press-release.php?Job=ELS-A-21039
Subscribe to Elsys' RSS feed: http://feeds.feedburner.com/PressRoom/Elsys
READER SERVICE INQUIRIES: Please direct to Klaas Vogel, email: klaas.vogel(at)elsys-instruments(dot)com.
EDITORS NOTE: Since 1980, Elsys Instruments has developed and manufactured highly precise and high resolution data acquisition equipment that focuses on fast sampling rates. With instruments providing high precision at ±<0.1% or better, on range and off-set as well as LAN connectivity and long-term real-time data acquisition, Elsys is sought out by its customers in fields as diverse as the automotive and chemical industries, production test, power plants, calibration laboratories, universities and research laboratories.