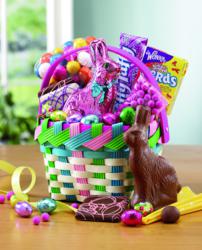 This Easter, we've created a sweet collection of desserts that look adorable and taste amazing!
Monroe, Wisconsin (PRWEB) March 06, 2013
The Swiss Colony has hatched a new line of Easter treats featuring chick and egg motifs on everything from delectable layer cakes, hand-decorated chocolates and candy-filled baskets at swisscolony.com. Kids and adults alike will adore the holiday line up baked with care in small batches, using high-quality ingredients including real butter sourced in the Midwest.
Like everything Swiss Colony makes, attention to detail is a priority. For example, the new Chickadee Torte ($21.95) has an original decoration featuring three sunny yellow chicks parading across a flowered meadow. Layered beneath the sweet frosting is a scrumptious yellow cake ribboned with vanilla butter creme and strawberry shortcake filling.
For chocolate lovers, the new Decorated Brownie ($29.95) baked to look like an oversized egg, is pure decadence. A thick, fudgy brownie base is topped by Swiss Colony's exclusive fluffy mouse-cream filling.
Kids will squeal with delight when they find that the Easter bunny has delivered a Flock of Sweet Chicks ($24.95) - a set of 12 hand-decorated chocolates in the shape of baby chicks made from luscious, creamy chocolate.
There are Easter baskets galore of all shapes, candy type and sizes, along with Swiss Colony's famous Petits Fours, dreamy cheesecake and specialty items like the new Carrot Cake Balls ($18.95) loaded with fresh carrots, pineapple and nuts rolled around a cream cheese filling.
If lemon is preferred, the Bee and Flower Tea Cakes ($19.95) are buzzing to be tried. Mini moist hexagon-shaped cakes with lemon flavor butter creme are each artistically decorated by hand with honey bees or flowers.
Little tykes will love the new Meltaway Wacky Bugs ($26.95), each double-chocolate delight will fit perfectly in a small hand - but it won't last long.
For friends and family far away, The Swiss Colony now offers fresh flower bouquets: Stargazer Lily Bouquets in either white or pink ($49.95 - $59.95 plus shipping), and Orange Gerbera Daisy or Daisy Dazzler Bouquets (both $39.95 plus shipping).
"This Easter, we've created a sweet collection of desserts that look adorable and taste amazing," says Becky Henke, VP of Food at The Swiss Colony. "Our specialty bakery and candy kitchen still rely on our traditional heritage of making products in small batches to give our customers products that exceed their expectations - guaranteed."
For the complete line of Easter baskets, desserts, chocolates and more, shop online at swisscolony.com.
About The Swiss Colony
The Swiss Colony is a family-owned Wisconsin company that has been creating food gifts for more than 87 years. The company insists on the highest quality ingredients for a large selection of festively packaged gifts for every occasion. Exclusive recipes developed by European Master Bakers and hand-decorated novelties like no other are just two of the reasons customers include The Swiss colony as part of their holiday traditions year after year.