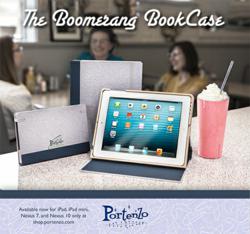 The 1950's style boomerang pattern is an absolute classic. This case makes me feel good every time I pick it up. - Darin Murray, Founder of Portenzo
St. Louis, MO (PRWEB) March 19, 2013
Known for the original handmade BookCase, Portenzo revealed the new Boomerang BookCase in its designer series. The Boomerang BookCase is available for iPad, iPad mini, Nexus 7, and Nexus 10.
The Portenzo BookCase gets a reminiscent makeover with a 1950's-inspired boomerang design. The Portenzo Boomerang BookCase is handcrafted in the U.S.A. in the Portenzo bindery using traditional book binding materials and techniques. This notebook-style case also includes a smooth American Maple frame along with Grip Right corners to keep your tablet secure.
"The 1950's style boomerang pattern is an absolute classic. This case makes me feel good every time I pick it up," stated Darin Murray, Founder of Portenzo.
Custom options can be added to the Portenzo Boomerang BookCase using the convenient CaseBuilder at shop.portenzo.com. The IntelliStand is available for adding two or more viewing angles. Other customizations include MagnaGrip, camera opening, and pro stylus compartment. This unique case can also be customized with personal embossing.
As with all Portenzo BookCases, the Boomerang BookCase comes with Smart Cover technology, which allows the case to automatically sleep/wake when the case is opened and closed. The Portenzo Boomerang BookCase is available for the following devices: iPad starting at $79.95, iPad mini starting at $69.95, Nexus 7 starting at $49.95, and Nexus 10 starting at $79.97.
The crew at Portenzo takes extreme pride in delivering products that are unique and stylish. These luxurious journal styled cases are the perfect compliment to any device. Handcrafted in U.S.A., Portenzo brings old world book binding techniques to life. They have a nostalgic look and feel of a favorite journal while incorporating the latest technologies. The attention to detail on every Portenzo case is exceptional, as each one is handmade to every customer's unique specifications. These cases, and much more, are available at http://shop.portenzo.com/.