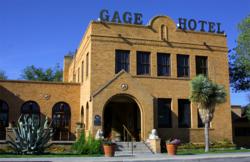 We strive to offer the best of the best to our guests. With a taste that is beyond compare and a solid following from cowboys to celebrities, Pura Vida Tequila is the shining star in the vast landscape of the tequila world. - explained J.P. Bryan
Mararthon, TX (PRWEB) March 05, 2013
The Gage Hotel, the legendary gem of West Texas and getaway to Hollywood elite, announced today that it has made Pura Vida Tequila its liquor of choice for its guests. "I can't think of a better place to sip our fine elixir than at the White Buffalo Bar or in the Gage Gardens sitting fireside," said Pura Vida investor and fan, Billy Gibbons, famed ZZ TOP front man and Rock and Roll Hall-of-Famer.
"We strive to offer the best of the best to our guests," explained J.P. Bryan, owner of the historic hotel. "With a taste that is beyond compare and a solid following from cowboys to celebrities, Pura Vida Tequila is the shining star in the vast landscape of the tequila world."
Pura Vida Tequila's recent victories- Spirits of Mexico Festival's Best in Class, Tequila.net's Best of the Best and Beverage Industry News Editor's Choice 2013 - combined with Gage Hotel guests' search for the perfect Margarita made this a simple choice. "When you find a liquor that exudes the Texas attitude that your venue was born into, you know you have found a winner," continues Bryan. "Combined with a truly exquisite taste that can only be achieved from estate-produced traditions, the decision became easy for The Gage."
Since its invention in 1941 in Ensenada Mexico, the Margarita has quickly become world-famous and the definite go-to cocktail of choice at The Gage. Knowing the authentic Mexican Margarita must be made with quality tequila, guests of The Gage Hotel have been crossing the border into Mexico for decades to search for the perfect authentic Margarita ingredients. This quest for perfection has also consumed the staff of The Gage - a quest which has been fulfilled with Pura Vida Tequila. "We provide the ultimate in hospitality at The Gage," added J.B. Bryan, son of J.P. "From our beautiful grounds and accommodations all the way to our perfect margaritas, we are always hunting for perfection."
Few other historic hotels offer a uniquely perfect combination of days-gone-by nostalgia and modern comfort than The Gage Hotel. The Gage returns every guest to a time when a breath of fresh air and the magnificent star filled night sky was all a West-Texas cowboy needed to feel alive, all the while rubbing elbows with Texas socialites and A-list celebrities.