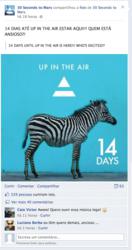 This is absolutely fantastic. I looked over recent Mars posts and the translations are going through - our audience is incredibly excited to see the messages in their native tongue - exactly what we wanted: to communicate as clearly and deeply as possible
San Francisco, California (PRWEB) March 05, 2013
At LAUNCH Festival in San Francisco, Transfluent released a new service that allows foreign brands to build presence on the Sina Weibo platform, the Chinese equivalent of Twitter, using always-available professional language translators.
One of the early adopters of Transfluent is Thirty Seconds to Mars, a popular American rock band. They just launched their new single Up In The Air into space aboard the SpaceX Dragon rocket. The launch was followed by over 10 million fans within the band's social media streams. The band was able to communicate the events as they unfolded using 10 languages, reaching the majority of their fans in their native language.
As a result, 32% of all the comments posted to the band's Facebook page were in languages other than English. And the delivery was not limited to Facebook. The band has a loyal following on Sina Weibo, the top Chinese social media site (with 500m+ users Weibo is the second largest social media service in the world, second only to Facebook), where the band's messages were posted in Mandarin.
Transfluent is glad to have other major launch customers for the Weibo service. Not only a product for businesses, Transfluent has also attracted several notable clients with personal accounts, such as Peter Vesterbacka (CMO of Rovio, the creator of Angry Birds), Paul Bragiel (founder of i/o Ventures and Silicon Valley investor) as well as Jared Leto (Hollywood actor and frontman of Thirty Seconds to Mars).
"This is absolutely fantastic. I looked over recent Mars posts and the translations are going through -- our audience is incredibly excited to see the messages in their native tongue -- exactly what we wanted: to communicate as clearly and deeply as possible." commented Leto after seeing the effects of Transfluent's translation service on his band's social media channels.
About Transfluent
Transfluent (http://www.transfluent.com) is a provider of professional language translation for social media, web and apps. We're the only translation provider directly integrated to Facebook, Twitter, Wordpress, Zendesk, Magento and Weibo. Transfluent also supports iOS and Android apps natively. We power the whole spectrum of tools needed for global communication.
Our customers range from universities to rock bands, from small startups to NASDAQ-listed companies. Our service is powered by over 15,000 professional translators around the world, in 60 languages, which means we will always have a translator available when needed. During the presidential election campaign we translated President Obama's Twitter feed from English to Spanish with an average turnaround time of just 5 minutes.