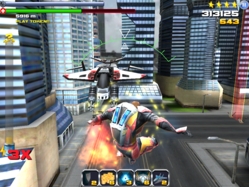 If you want a real challenge and you are a serious gamer play Jetpack Junkie- Jason Padgett
Plano, TX (PRWEB) March 08, 2013
For the people who have not seen or played it yet, RockePop Games' "Jetpack Junkie" is a huge hit and not for the faint of heart. CNET writes "Jetpack Junkie is a great way to kill some time….If you want a serious challenge in your 3D runner, this is the game to get" and GSMNation writes "Jetpack Junkie goes an extra mile to offer players more freedom with endless running games".
Jetpack Junkie is set in the future. There has been an alien invasion and the human resistance needs to map out the enemy's locations to launch an all-out counter attack. All radar has been blocked so the resistance creates a new type of soldier called "Recon Runners" who risk it all to map out the city. Some become legends.
Jason Padgett, Co-Founder RocketPop Games and actor in big screen movies like "Spiderman," starred in the hit TV series "The Shield" and hardcore gamer, says, "The game is a really fun runner, lots of action and the player can upgrade their characters. We wanted to make something totally exciting so we added in a jetpack with tons of upgrades and power-ups. Running and flying ended being up a great combination. If you want a real challenge and you are a serious gamer play Jetpack Junkie".
As the game is played, the player collects energy batteries, power-ups and game tokens. The batteries have two purposes: first they add power to the player's jetpack so when playing the Recon Runner can fly longer and second they can be used as coins to purchase several different kinds of upgrades for the characters. With enough batteries players can add "super power-ups" to be used in the characters belt during the game. Play real well and there are 4 additional characters to unlock and upgrade.
If that is not enough, while saving the city and the human race, bots are deployed from base during game play like shields, power magnets and life. These too can be upgraded. "Super Arcade Action" would best describe Jetpack Junkie.
Padgett continues " after the initial launch of Junkie we wanted to take the game to another level so we added in a power belt kind of like comic book super heroes. Now you can turn into a fighter jet, turbo forward, power up shields, and blast an EMP to shut down all enemy weapons. We also added in a "Coin Mania" power-up to temporarily increase the amount of coins you collect. Once you catch on it gets crazy!"
While Jetpack Junkie has received great reviews from game sites all around the world Jason says "Jetpack Junkie is not for the average gamer".
Asking what is next for RocketPop Games Jason says "we have more exciting games in the oven and we would like to thank all of our awesome fans for the great support".
Join RocketPop Games on Facebook to see screenshots, get development updates, and to communicate with our team. They would love to hear from you.
RocketPop Games LLC is located in Plano, Texas and develops software and games for a variety of mobile, console and PC platforms.