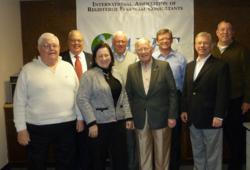 With the election of two new dynamic members Lloyd Lowe and Nick Royer and the retention of Rosilyn Overton as Vice President, the Board is in a powerful position to address industry and member issues in the coming year. --- IARFC President Les Anderson
Middletown, OH (PRWEB) March 13, 2013
The IARFC has achieved remarkable progress in the past year. Operations Manager Mark Terrett reported on the 2012-2013 Collegiate Financial Plan Competition that attracted many university students and faculty members. Plans submitted by the finalists will be presented and evaluated with online presentation tools. For the 2013-2014 competition, the goal is for more participation and sponsors. Practitioner liaison for the schools will be more vigorous with personal face-to-face contact.
The Register magazine - an important channel for the members, will include more technology and practice management articles. Social Media will continue to be a focus and monitored for maximum exposure. Efforts this past year have included a concentrated IARFC presence on LinkedIN, Facebook and a Blog on the IARFC website.
Outgoing board member Ed Ledford cited, "The strength of the IARFC is on practice management." Workshops with practical tools and training were discussed extensively and Chairman Ed Morrow announced a new Drip Marketing System for RFCs - with a special marketing sequence for business owners. The Board gave input on workshops to be developed in 2013.
An ongoing project for 2013 through 2014 is the path to accreditation. Jim Lifter, IARFC Education Director feels, "Going through the accreditation process is a detailed and very technically intense task. In the long run, this effort will bring our members a stronger and more readily acceptable designation. The public at large will benefit from financial advisors with advanced knowledge and proven capabilities for practicing financial planning."
A new member benefit offered is Group Long Term Disability coverage for IARFC members and their staff. Many practitioners indicate their personal coverage is no longer adequate and staff associates are generally un-insured. The rollout of the program will begin this Spring.
Election of IARFC Officers resulted in Les Anderson being reelected as President, new board member Nick Royer - Secretary, Rosilyn Overton and new member Lloyd Lowe - Vice Presidents, and Jeff Rattiner - Treasurer. Ed Morrow, Hank Brock, Jon Rogers and Steve Bailey will continue serving their terms. Elected for her first term is Isabel Cooper of Ashton, Va.
"We are dedicated to helping our members be successful," said Chairman Ed Morrow. "This coming year, our Board is committed to increasing membership, enhancing membership benefits and offering more educational programs with advanced technical content, practice management and marketing impact. We look forward to strengthening our programs and carrying out the IARFC mission."