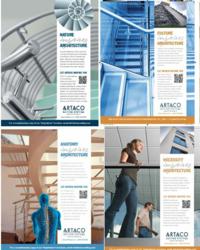 The Anatomy Inspires Ad has also garnered a #1 Most-Noticeable Ad nod from Architectural Products magazine. This was exactly what we were shooting for: high-impact messaging. — Elana Murray, Marketing Manager
Miami, FL (PRWEB) March 07, 2013
ARTACO Architectural Railing Systems announced today that it received its 3rd ADDY Award in two years. The campaign is comprised of five distinct print ads designed around the theme "ARTACO Inspires…" these include Nature, History, Culture, Anatomy and Necessity. Positioning the ARTACO Architectural Railing Systems as a key interior/exterior architectural elements that are so high-quality and beautiful will inspire the designs of architects, builders, and installers of architectural railings, stairways and more.
The Advertising Federation of Greater Fort Lauderdale once again recognized the creative efforts of the ARTACO marketing team and agency-of-record, Bitner Goodman, with a Silver ADDY Award for its "Inspirations" print ad campaign.
ARTACO's Complete Systems Save Time & Money…two critical ways the building industry today is demanding results. Faster, easier, but no less elegant, job site solutions. ARTACO has responded with an innovative new selection of pre-packed railing systems that contain everything you need: balusters, brackets and fitting components, as well as infills of glass, rod, cable and other desired materials.
Attracting nearly 60,000 entries each year nationwide, the ADDY awards have become the nation's largest and most comprehensive advertising competition. Sponsored by the AAF, the awards honor excellence in advertising and cultivate the highest creative standards in the industry. Each fall, the competition begins with contests in the nation's 200+ AAF member clubs, where entries must be submitted and judged to be eligible for the ADDY process. Local winners proceed to 15 regional competitions, and those winners, such as ARTACO, to the national finals.
ARTACO Railing Systems is a division of TACO Metals, Inc., a leading manufacturer with over 50 years serving the architectural, electrical, marine, specialty vehicle and OEM markets.