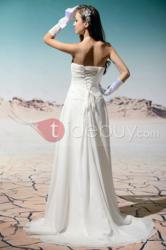 (PRWEB) March 06, 2013
Recently, TideBuy.com, has proudly introduced that they would extend its formal dress promotion to Mar. 15, 2013 to show appreciation to all consumers. No matter new customers, old customers or VIP customers, they can get a discount, up to 50% off, when shopping their wedding dresses online.
The wedding dresses from TideBuy.com cover a wide range of choices, including A-line wedding dresses, casual wedding dresses, sweetheart wedding dresses, one-shoulder wedding dresses, and more. Moreover, many hot styles in the market can be found there, such as sexy strapless beading sleeveless short mini taffeta wedding dresses, V-neck beading wedding dresses, and more.
Edmond Liu, a spokesman of TideBuy.com, said, "Our wedding dresses have a good market performance, and have greatly stimulated our company's business growth in the past few months. Now, we extend the promotion to show our appreciation to all our customers. Thank you!"
Cheap wedding dresses have been very popular in the current economic atmosphere, and people would not spend money like before. TideBuy.com has dedicatedly studied customers' psychology, and can always give the market a stunning impression for its high-quality and trendy dresses at affordable prices.
In addition to a wide range of wedding dresses, TideBuy.com is offering a huge selection of prom dresses, cocktail dresses, evening dresses, and, etc.
Tidebuy.com, a Hong Kong based company, specializes in supplying women's apparel. The company has the most extensive collection of women fashion dresses and with its cheap prices and fast delivery; it is considered to be one of the best places to shop online.
For more information, please visit: http://www.tidebuy.com/?utm_source=content&utm_medium=news&utm_campaign=index