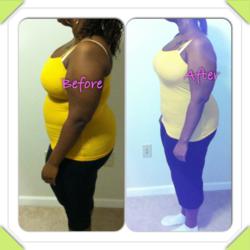 "I didn't have any motivation to lose weight before joining Diet.com, but the Challenge gave me the strength to start my journey." - Diet.com member and Weight Loss Challenge winner Brittany
Brookline, MA (PRWEB) March 06, 2013
Diet.com, one of the web's leading resources for diet, fitness and nutrition content and tools, has announced the winners of the site's annual New Year's Weight Loss Challenge. The Challenge ran for six weeks, from January 7 to February 15, with participants from all over the world competing for three motivational prize packages.
The Grand Prize winner, a Diet.com member named Brittany, lost 15 pounds during the Challenge. Brittany, a proud Air Force wife and mother, told Diet.com, "I have never been dedicated to losing weight as much as I have with this Challenge. The dieters here are so supportive and they really want to see you succeed."
"I didn't have any motivation to lose weight before joining Diet.com, but the Challenge gave me the strength to start my journey, and I've actually stayed on track the entire six weeks," Brittany tells Diet.com in the testimonial she wrote at the end of the Challenge. Read Brittany's Weight Loss Testimonial.
"We are so proud of our winners and all of our Weight Loss Challengers," says Bailey Apple, Diet.com's Marketing Manager who oversees the operations of each of the site's Challenges. "Our goal is to provide our members with the extra motivational nudge they need to focus on changing their habits for the better."
"I'm far from reaching my overall weight loss goal, but I know I will achieve it especially with all the knowledge I have here with this site and the support," Brittany says.
Brittany's prize package includes motivational prizes aimed at helping her to continue on her journey to being healthy: A CamelBak water bottle, Lisa Johnson's Modern Pilates DVD, a Burt's Bees Skincare Set, KIND Bars, an iTunes gift card, a new Rockland gym bag, a six-month Premium Membership to Diet.com and more.
Two runners up were also named in the Challenge, each taking home prize packages including the Modern Pilates DVD, athletic socks, flex bands, KIND Bars, a 3-month Premium Membership to Diet.com and more.
Diet.com's Weight Loss Challenges run several times throughout the year and offer participants a forum to increase motivation for weight loss through friendly competition, goal-setting tools, community support and prizes. The New Year's Challenge is Diet.com's most popular and anticipated Challenge of each year, this year drawing over 500 participants from all over the globe. This year's participants lost a combined total of over 800 pounds.
About Diet.com:
Diet.com is a multifaceted health and wellness organization that provides quality information and cutting edge tools and services to consumers and businesses alike. Since its founding, Diet.com has been a valuable online resource for dieters and those seeking information on living a healthy lifestyle. As one of the web's leading resources for diet, nutrition, and fitness content and tools, Diet.com has created a platform where consumers are able to set and track diet and fitness goals, browse over 1,000 healthy recipes, learn new exercises, and interact with others in the thriving Diet.com online community. The diethealth YouTube channel (http://www.youtube.com/diethealth) has a library of over 550 videos, over 130,000 subscribers, and has received upwards of 104 million views. For any inquiries, please contact Lauren Alford, Director of Business Development, at LaurenA(at)diet(dot)com or 919-616-7532.