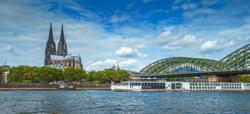 "TV and online video are perfect media for travel and tourism clients"
London (PRWEB UK) 11 March 2013
Ad agency The DRTV Centre has created Viking River Cruises' latest initiative in a series of website videos. Called "Your First Viking River Cruise" the video has been tailor-made to appeal to travellers who have never before tried river cruising. It explains and shows what life is like on board a Viking Longship, in the public areas like the restaurant and library and in the state rooms. It describes everything that is included in the price; and of course it shows the destinations, from glorious countryside to fascinating and historic cities.
The video will be hosted on Viking River Cruises YouTube Channel and embedded within a dedicated "Why River Cruise?" page on the company's website.
The DRTV Centre's David Pearson commented: "TV and online video are perfect media for travel and tourism clients as we're able to show great destinations and, in Viking's case, a truly fabulous on-board experience. River cruising is the fastest growing segment of the travel market, and Viking is now the world's leading river cruise company. This latest video will introduce river cruising to a fresh audience"
Wendy Atkin-Smith, Managing Director of Viking River Cruises said, "Video content is vital in showcasing our fantastic product to both existing and potential customers. The new "First Viking River Cruise" video will help in educating those who are new to river cruising and to Viking. It provides the perfect outlet for us to demonstrate everything we have to offer."
Viking has also worked with The DRTV Centre to create their recent and current 60 second and 30 second TV commercials.
About Viking River Cruises:
Viking River Cruises, the world's leading river cruise company, offers scenic cruising along the rivers of Europe, Russia and Asia. The company has been honoured multiple times as the top river cruise line on Condé Nast Traveller's "Gold List" and Travel + Leisure's "World's Best" Awards as well as being recognised as the ''World's Leading River Cruise Operator'' at the World Travel Awards and the "Best River Cruise Line" at the British Travel Awards.
Since its 1997 inception, Viking has grown to a fleet of 39 vessels, and provides unique, deluxe holidays to travellers with an interest in geography, culture and history. With a £165 million investment in a fleet development programme, Viking ships have seen several refurbishments plus the introduction of 16 state-of-the-art Longships by the end of 2013, with plans for a further eight in 2014.
For additional information, contact Viking on 020 8780 7995.
The DRTV Centre company details:
The agency was founded in London in 1997. It was appointed by Viking River Cruises at the beginning of 2011.
The company specialises in direct response TV, and is expert in advertising travel and holidays, annuities, coins & jewellery, communications, comparison websites, education, equity release, injury compensation, law, loans, pet insurance, and toys. It provides everything clients require to mount successful DRTV campaigns: strategies, idea creation, scriptwriting, storyboards, research, casting, location search, film/video production, music, voice-overs, Clearcast clearance, transmission copies, channel selection, TV airtime planning/booking and campaign response analysis.
Great DRTV campaigns require specialist advisers. For more information, call David Pearson on 0800 635 9000.